Operating Hours & Seasons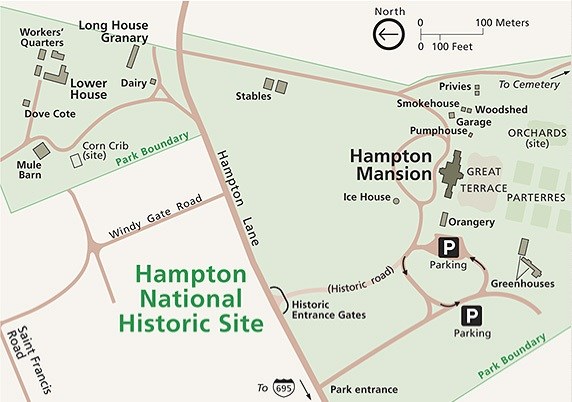 Currently, only the park's grounds and parking lots are open for recreational visitors. Park gates open at 8:30 am and close at 5pm.

The visitor center, mansion, buildings, and restrooms remain closed to the public due to health concerns related to COVID-19. Hampton NHS is not conducting on-site public programs or providing visitor information and services at this time.


Mansion Tours
Mansion tours are available Thursday-Sunday at the following times:
Thursday-Sunday
10:00 a.m.
11:00 a.m.
1:00 p.m.
2:00 p.m.
3:00 p.m.
The interior of the mansion is accessible only through guided tours. Mansion tours begin at the Visitor Center, please plan to arrive 15 minutes before the scheduled tour time. there is a maximum limit of 15 people per tour. Tours are available on a first come, first served basis. Individual reservations will not be taken. Tours run approximately 45-60 minutes.
Groups consisting of 10 people or more must schedule a tour prior to visiting by calling 410 823-1309 ext. 244. Requests for group visits should be submitted at least 2 weeks prior to the anticicpated date of visit.

Visitor Center and Museum Shop
Thursday – Sunday, 9:00 am - 4:00 pm
Restrooms, water fountain, and first aid are available at the Visitor Center.
Park Grounds
Main Gates and Parking Lots are open daily from 8:30 am – 5:00 pm

Pedestrian access to park grounds daily, from dawn to dusk.

Family Cemetery, Stables, Ice House, and Orangery
Thursday - Sunday, 9:00 am - 3:30 pm
Lower Farm
Slave Quarters and Dairy
Thursday - Sunday, 9:00 am - 3:30 pm

The Lower House is open depending on staff availability. Please call ahead of our visit to confirm hours of operation.

Restrooms near the Lower House are open 7 days a week from 9:00 am - 3:30 pm

Parking
On site parking is free and available on a first come, first served basis. ADA accessible parking is available at the main, upper, and farm lots. The parking lots are open daily 8:30 am - 5:00 pm. Visitors who wish to visit the park outside of these hours may not park vehicles anywhere within the park boundaries, including the following areas: in front of any park gates (including the main gates and historic gate) and on the grass near Hampton Lane.

Holiday Closures
Parking lot gates and restrooms are CLOSED on the following holidays:
New Year's Day
Thanksgiving Day
Christmas Day
Pedestrian access to the grounds will remain open during holidays. Mansion tours and other programs will not take place on the above holidays.
Programs and access to areas on site are subject to staff availability and weather conditions. Please call ahead to confirm park hours of operation. In the case of inclement weather, please check the park alerts and advisories.
Source:Superintendent's Compendium of Designations, Closures, Permit Requirements and Other Restrictions Imposed Under Discretionary Authority.


Last updated: June 15, 2020