Operating Hours & Seasons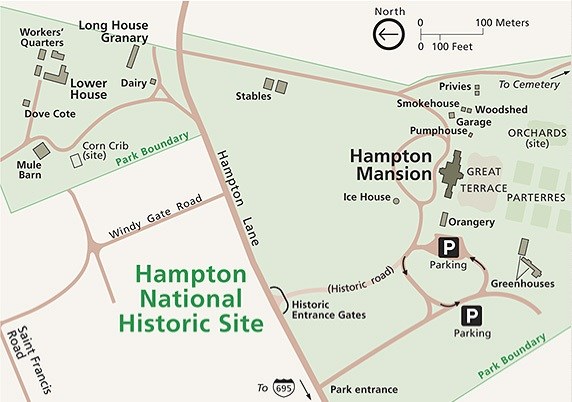 Hampton's parking lots are open daily from 8:30am to 5pm. Recreational visitors may access the park from dawn to dusk (parking outside the park when gates are closed).

Restrooms are open Thursday-Sunday 9:00AM-4:30PM (one in Orangery next to the mansion and one in Dove Cote next to the Overseer's House)

A visitor service tent outside the Visitor Center will be open Thursday-Sunday from 9:30AM - 4:00PM. Park maps, brochures, Junior Ranger books, and passport stamps are available at the tent. Rangers and volunteers will be available to answer questions and provide needed assistance.

Hampton NHS has resumed opening some of the outbuildings containing exhibits Thursdays-Sundays.

The visitor center, mansion, and the Overseer's House will remain closed at this time due to health concerns related to COVID-19.

Consistent with CDC guidance regarding areas of substantial or high transmission, visitors to Hampton NHS, regardless of vaccination status, are required to wear a mask inside all park buildings.

Mansion Tours- currently not available
Visitor Center and Museum Shop- currently not available
Park Grounds
Main Gates and Parking Lots are open daily from 8:30 am – 5:00 pm
Pedestrian access to park grounds daily, from dawn to dusk.

Parking
On site parking is free and available on a first come, first served basis. ADA accessible parking is available at the main, upper, and farm lots. The parking lots are open daily 8:30 am - 5:00 pm. Visitors who wish to visit the park outside of these hours may not park vehicles anywhere within the park boundaries, including the following areas: in front of any park gates (including the main gates and historic gate) and on the grass near Hampton Lane.

Holiday Closures
Parking lot gates and restrooms are CLOSED on the following holidays:
New Year's Day
Thanksgiving Day
Christmas Day
Pedestrian access to the grounds will remain open during holidays.
Programs and access to areas on site are subject to staff availability and weather conditions. Please call ahead to confirm park hours of operation. In the case of inclement weather, please check the park alerts and advisories.
Source:Superintendent's Compendium of Designations, Closures, Permit Requirements and Other Restrictions Imposed Under Discretionary Authority.


Last updated: August 5, 2021