2012 African American History Symposium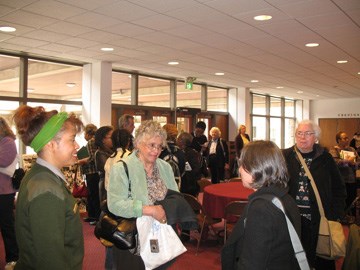 The 2012 Symposium on African American History committee is pleased to share the date for next year's symposium.
Save the Date: Thursday March 15, 2012
Time: 8:00 a.m. - 1:00 p.m.
Location: Merrick Lecture Hall, Goucher College

The theme of the 2012 symposium is, Free Yet Bound: The African American Community in Baltimore, 1800-1864.
Registration fee:
Early Bird (register by February 20, 2012)
Students/GBHA/HHI $20
Regular Registration $25
General Registration
Students/GBHA/HHI $25
Regular Registration $30
Please register for the symposium by March 10, 2012 for catering purposes. Although not preferred, you may register on the day of the symposium.
Please contact Angela Roberts-Burton at 410 823-1309 x208 for more information and to register.
updated: 1/5/12
Good Things to Know
Parking: Free parking is available at Goucher. Visitor parking is denoted as parking lot V on the campus map.

Food: a continental breakfast and a mid-morning snack break are included with your registration fee.

Sales: The Museum Shop of Historic Hampton operates a small sales table at the symposium.
Registration: Registration Brochure
Refunds: All requests for refunds must be made 72 hours prior to the symposium. We cannot guarantee a refund for a cancellation made less that 72 hours before the symposium. Please contact Angela Roberts-Burton at 410-823-1309 x208 if you are unable to attend the symposium and have already registered.
updated 8.9.11
Directions to Goucher College
By car: If arriving by GPS, use this address: Goucher College, 1021 Dulaney Valley Road, Towson, Maryland, 21204. Motorists approaching Goucher College from any direction are advised to take the Baltimore Beltway (I-695), leaving it at exit 27A-Towson (Dulaney Valley Road south). The college entrance is on the left, one-half block from exit 27A.
By train: All passenger trains arrive at Pennsylvania Station in Downtown Baltimore. A taxi from the station to Goucher College takes approximately 20 minutes.
For more information about Historic Hampton Inc., or Goucher College please use the links below.
Last updated: March 31, 2012