Thomas and Caroline Davis Brown
Thomas Brown (c. 1841-c. 1903), a descendant of Hampton's enslaved laborers, spent his entire life as a free man working for the Ridgely family. By 1860, he and his father William were paid servants for Eliza "Didy" Ridgely White and her in-laws at their townhouse on Mount Vernon Place. By the 1870s, Thomas was head waiter at Hampton, a post he continued until his death c. 1903. His wife, Caroline Davis Brown (1837-lv. 1894), also played an important role at Hampton. Just 4 years old when she arrived with her enslaved family from Frederick County, she later became an accomplished dairymaid. According to Ridgely family memoirist James McHenry Howard writing in 1894: "For many years she had charge of the dairy and kept up the standard of the Hampton butter so well that she has been missed ever since she gave up that department."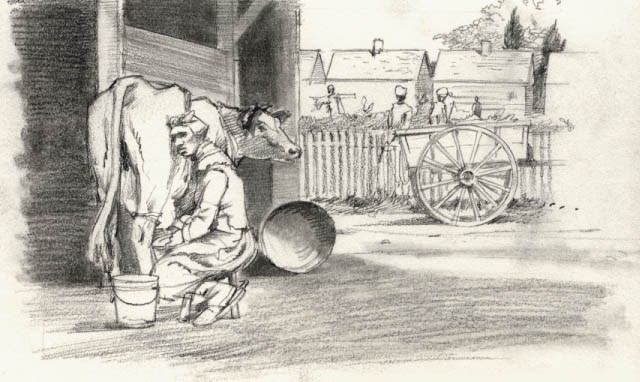 Large herds of dairy cattle were a key part of the Hampton estate's profit-making enterprises both before and after the Civil War, with enslaved (and later paid) workers handling the supervision, feeding, milking, and dairy production. In 1822, for example, the Hampton dairy produced 5,215 lbs of butter, with the vast majority going to sale at market.

Around 1856, Caroline had a son named Lewis/Louis, listed in the clothing accounts as "Caroline's Lewis," and named for her brother Louis Davis. This younger Louis Davis worked as a coachman at Hampton, as is seen in a journal passage from John and Helen Ridgely's daughter Helen. In October 1890, young Helen wrote:
"I went out walking yesterday with my two brothers John, and Stewart and their nurse. We walked down the road to the culvert, where our wheel-house is. We had not been there more than a minute when we saw Louis our coachman driving a horse in the training cart, and it was going quite fast..."

Some years later, her mother Helen recorded Lewis Davis's continuing presence at Hampton in her diary in January 1906, "John sent Lewis to town to-day with the old buggy which he is to have repaired for my Christmas present." He was later photographed holding the reins of a horse along with Louise and John Ridgely, Jr. in front of the Hampton stables in 1912.
After Emancipation occurred in Maryland late in 1864, Caroline Davis married Thomas Brown (c. 1841-lv. 1900), who along with his father William had been working as paid servants for Eliza "Didy" Ridgely White at the Ridgely townhouse on Mount Vernon Place. According to Uncle Jim Howard, William Brown had been the coachman at Cowpens and was a brother of Ambrose Brown, Nancy Brown Davis' father. Caroline and Thomas had three daughters: Annie (b. 1867), Caroline (b. 1872) and Mary (b. 1874). The family is recorded living near Hampton on the edge Towson in the 1880 census. Thomas eventually became head waiter at Hampton, a post he continued until after the turn of the 20th century.
Last updated: June 6, 2020