Garden Service Cluster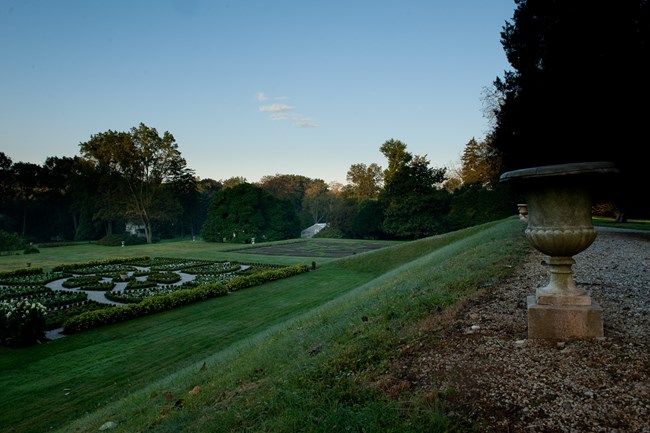 By the late 19th century, Hampton was home to a great variety of buildings that supported the extensive ornamental and kitchen gardens. This included three greenhouses, an orangery, grapery, rose house, propagating house, hot house, and two cottages. Five of these structures remain for visitors to explore.
Orangery
Built between 1829 and 1832, the original Orangery (also known as the "Orange House") was the first of the three greenhouses to line the west side of the gardens. Its simple temple form echoed the lines of the classical pediments of Hampton Hall's porticos. The mostly wood and glass structure provided space in which citrus trees in boxes were over-wintered and then hauled outside to ornament the great terrace in warmer weather. The original structure was lost to a fire in 1926. In 1976, the National Park Service reconstructed the Orangery on its original site.
Greenhouses
Greenhouse #1 was one of three greenhouses at Hampton. It was constructed between after 1843 (after the Orangery and Greenhouse #2) and consisted mostly of metal and glass. The addition of this greenhouse is a testament to the scale of horticultural activity at Hampton during the nineteenth century. In the mid-nineteenth century, the greenhouse was expanded. The structure deteriorated over time due to disuse. The ruin consists of L-shaped remains of the gable-roofed structure with metal framework constructed over stone and brick walls, and a stone potting room.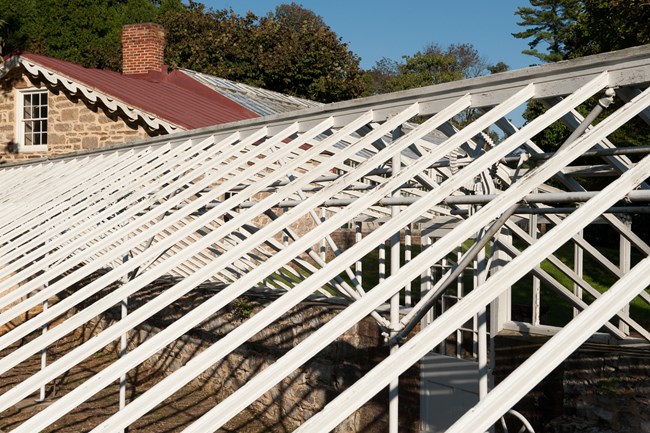 Greenhouse #2 was constructed in 1839 as a timber frame structure facing the Falling Gardens to the east. The greenhouse was altered 1880 and 1890, but during the 20th century the timber frame structure was razed and replaced with a metal and glass structure under the direction of Lillian Ridgely. The greenhouse now consists of a stone potting room with a gable roof and brick chimney on the west side and a longer glass-roofed greenhouse
Garden Maintenance Building
Built beside the Falling Gardens around 1840, the Garden Maintenance Building was originally a smaller ornamental cottage. The building was expanded by Margaretta Ridgely, circa 1875. The architectural style of the expanded building is consistent with Margaretta Ridgely's improvements to the property in the late 1800s. It was located on the west side of the falling gardens between the Caretaker's Cottage and the greenhouses. The central area of the building functioned as a storage area for first horse-drawn, then for gas-powered farm equipment. One of the side bays was used as a feed room and stable, and the other was used as living quarters for various groundskeepers, gardeners, and a chauffeur. The living quarters in the Garden Maintenance Building had a cellar, possibly dating to a previous building on the site.
Caretaker's Cottage
The Caretaker's Cottage housed a series of gardeners throughout the historic period. The Ridgelys constructed the main stone building by 1843, and a brick addition to the north and west sides of the building was built during the mid-nineteenth century.
Last updated: July 29, 2020