Architecture
Hampton is significant for its late-Georgian architecture. It is big, bold, vigorous, and dramatic. Charles Ridgely, the builder, has been similarly described.
This is the largest Georgian style residence extant in this country. Hallmarks of Georgian design: rigid symmetry, 5-part composition, axial entrances, geometrical proportions, pedimented gable ends, and sash windows are all obvious in Hampton's design.

The central pavilion with pediment and bold pilasters became a striking feature as the Georgian style progressed.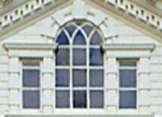 A popular feature was the Palladian window, seen here crowning the central pavilion.

The scroll decorated dormers make a major statement on Hampton's roof.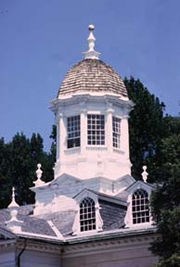 The designer might well have had a public building rather than a residence in mind when the cupola was proportioned.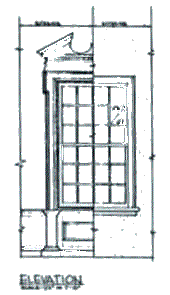 On the exterior, windows are framed simply, but the interior treatment is with elaborate broken pediments and trim in the central portion.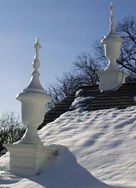 Urns topping the pediment are typical in the late-Georgian, however, at Hampton they have become elaborate crowning finials.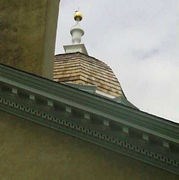 The bold cornice detail is typical of the style. This detail continues on the East and West wings and connecting segments, called hyphens, but the scale is reduced for these smaller links in the five--part design.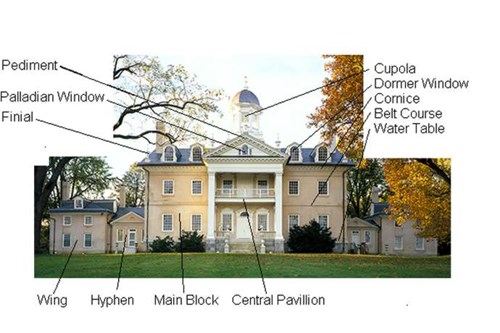 Last updated: February 26, 2015