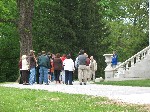 The National Park Service would not exist without the passion of American citizens just like you. Before the 391 units of today's national park system were created, individuals volunteered their time, money, passion, knowledge, and power to create America's backyard.
Hampton National Historic Site is always looking for motivated, passionate, and dedicated individuals who want to help preserve the legacy of the National Parks for future generations. Hampton tells the story of people, the people who lived and worked on this once vast estate. The diversity of stories at Hampton, from the family that built the mansion to the enslaved African Americans who made life on the estate possible, are best shared by our diverse volunteer corps. Coming from all walks of life, Hampton's volunteers generously donated over 16,000 hours of service last year.
National Parks, like Hampton National Historic Site are preserved by federal law and supported by a federal budget, they could not survive without the thousands of hours dedicated by everyday average citizens who want to help make a difference.
So please consider joining the best mission in America, to leave our National Parks unimpaired to the next generation. We always welcome volunteers to lead mansion tours, staff the visitor center, demonstrate a skill or trade, work in the gardens, assist with invasive plant management, maintain the park library, conduct historic research, or if you have a love or interest that you think might benefit Hampton- please contact the park volunteer coordinator today!