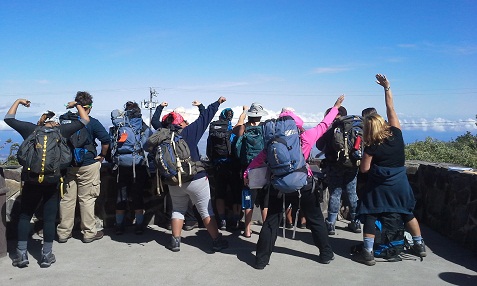 News Release Date:
July 2, 2015
Contact: Polly Angelakis, 808-572-4450
On June 16-18, 2015, eight participants and four staff members from the Hawai'i Girls Court visited Haleakalā National Park, spending three days and two nights in the Haleakalā crater. The wilderness immersion program offered a transformational experience to some of the state's most underserved and at risk youth.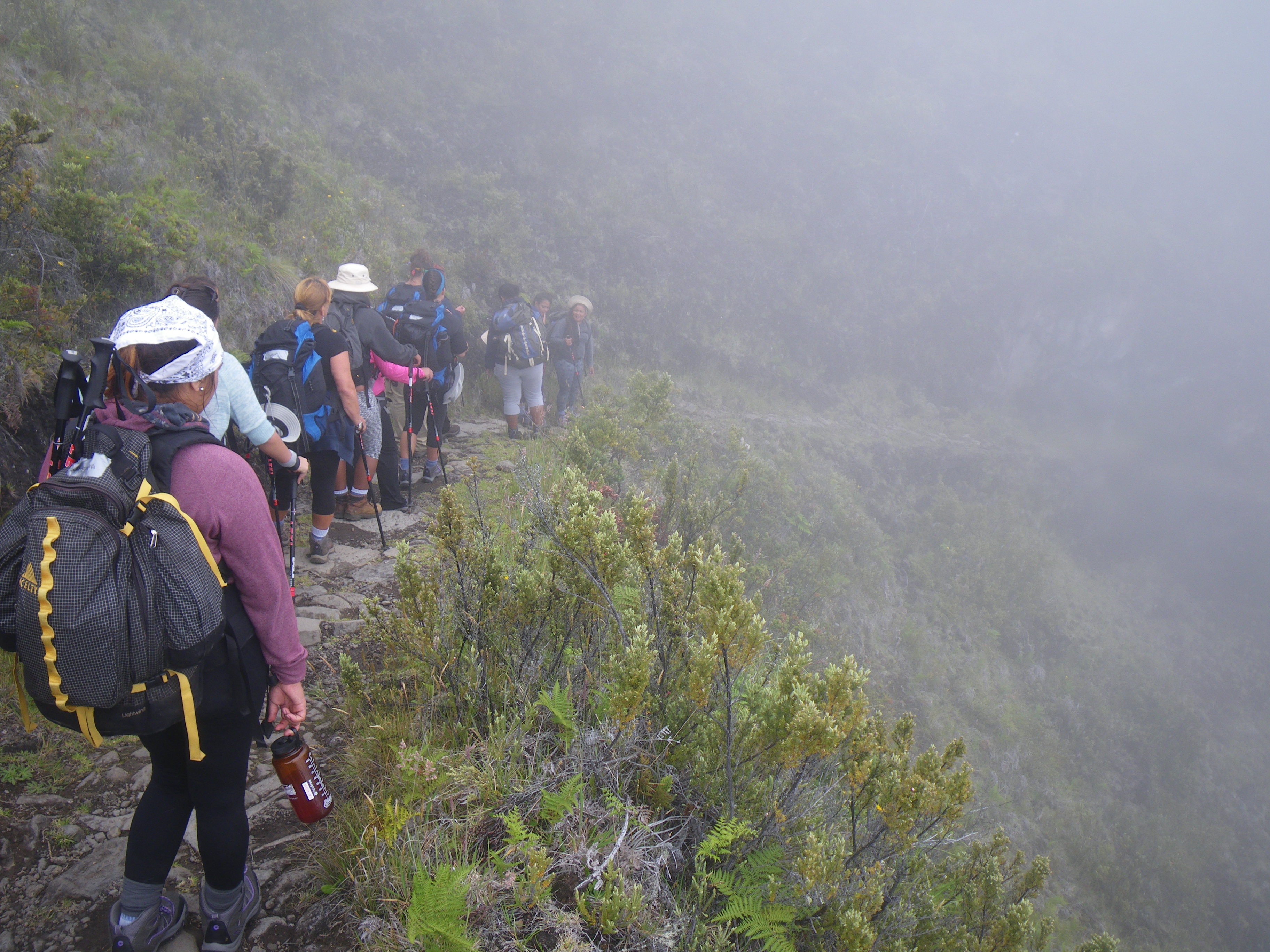 Girls court hiking the switchback trail in fog. NPS
The group, accompanied by female National Park Service staff, spent the 3 days learning about Hawaiian species and ecology, Hawaiian culture, and themselves. While traveling through the Haleakalā Wilderness many of these girls experienced quiet and solitude for the first time in their lives. Said one young participant: "I learned that I really was blind from the start. I was so busy with everything that was going on I forgot about the beauty in life. I loved the fact that I could breathe fresh air and I will never forget the beautiful scenery at the crater."
The group stayed in the historic Holua visitor cabin, cooking meals together and assisting with invasive plant removal in and around the Silversword Loop Trail. "My greatest experience at Haleakalā was being able to live with no electricity or very little water," said one girl. "It helped me to connect with everyone better and see what it's like to live without those things, because on a daily basis we all take advantage of these things. It was great to be reminded of what it's like. Also, I loved being able to hike such a beautiful mountain and proving to myself that I could do such a long hike so easily. I didn't know I was capable or in good enough shape to be able to do that and getting to connect with everyone there."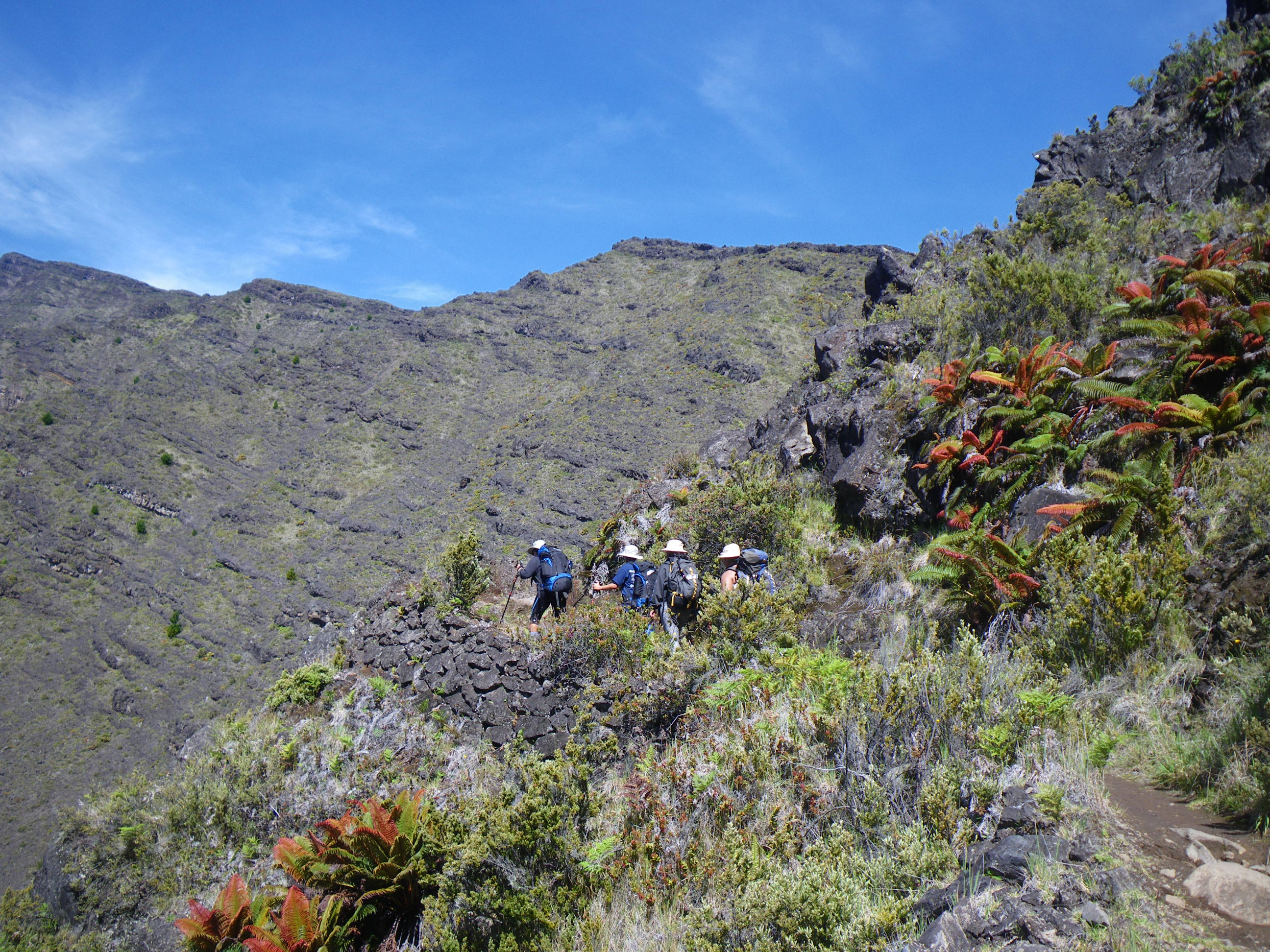 Girls court hiking on switchback trail. NPS
Girls Court, established in 2004 by O'ahu Family Court Judge Karen Radius, has served as a laboratory court to develop and expand gender-specific programming for adolescent girls in the juvenile justice system. One of the first in the nation, Girls Court focuses on the differing needs of adolescent female offenders who are often victims of physical or sexual abuse or domestic violence. Girls Court works on a strength-based model to develop healthy relationships among the girls and their families, return the girls to school or appropriate educational placement, and introduce the girls to employment education and other opportunities in the community. The program has been a successful one, reducing recidivism by 47%, which included a 60% reduction in the number of runaways, and a 63% reduction in arrests. To learn more about Hawai'i Girls Court, visit: http://www.girlscourt.org/.
The hike into and out of Haleakalā crater, comprising almost 8 miles of challenging terrain and 2000 feet of elevation change, was a challenge the entire group celebrated. Said Girls Court Probation Officer Val Lazo: " I learned that I can 'rough it' in the back country and that I can push myself in circumstances that will challenge my physical capabilities and persevere!"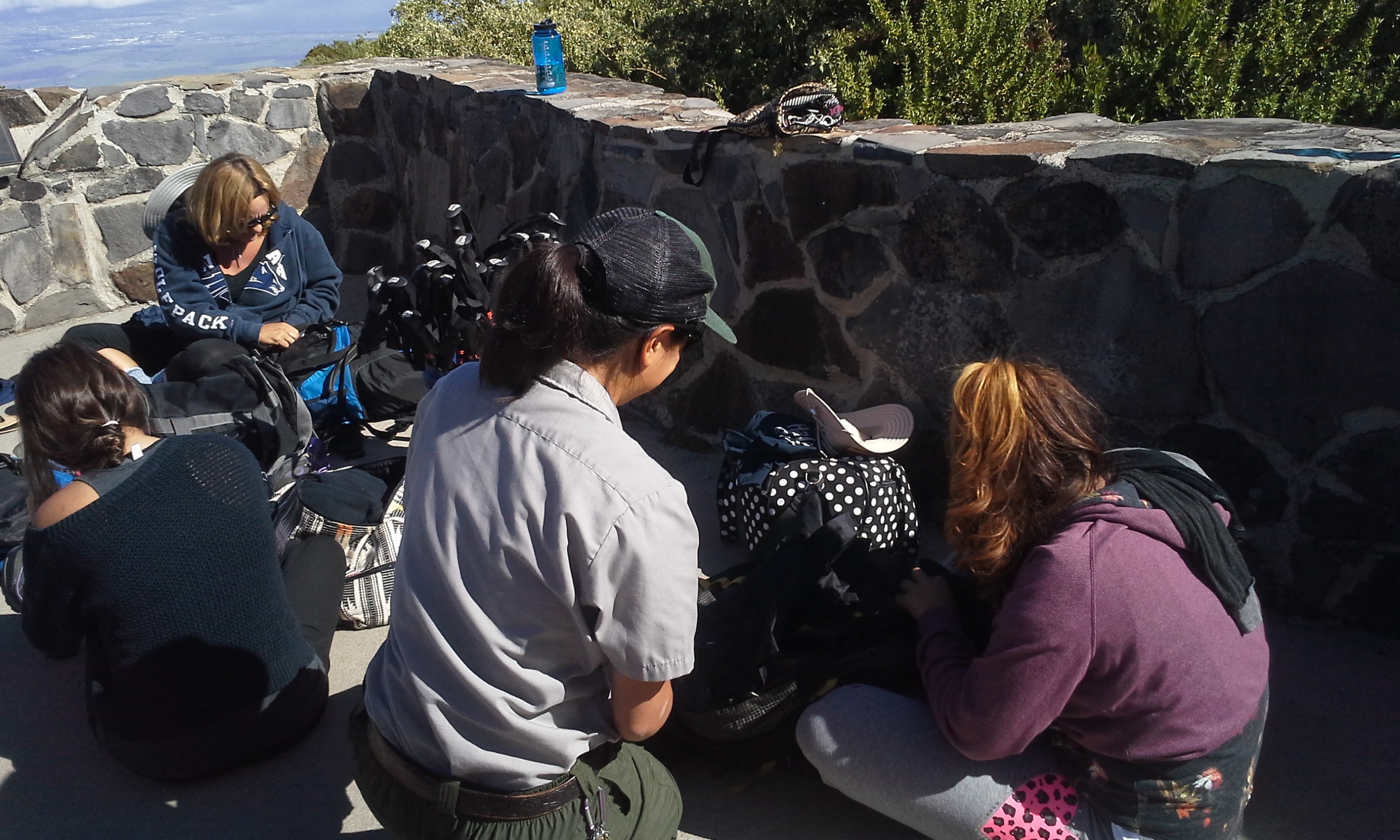 Employee Stacey Torigoe helps girls prep backpacks. NPS
The immersion trip was funded by the National Park Service and included travel expenses from O'ahu, backpacking equipment, and food. Haleakalā National Park also provided mules to assist the first-time backpackers in bringing food and supplies into the crater. Support for the trip was also provided by Hawai`i Pacific Parks Association.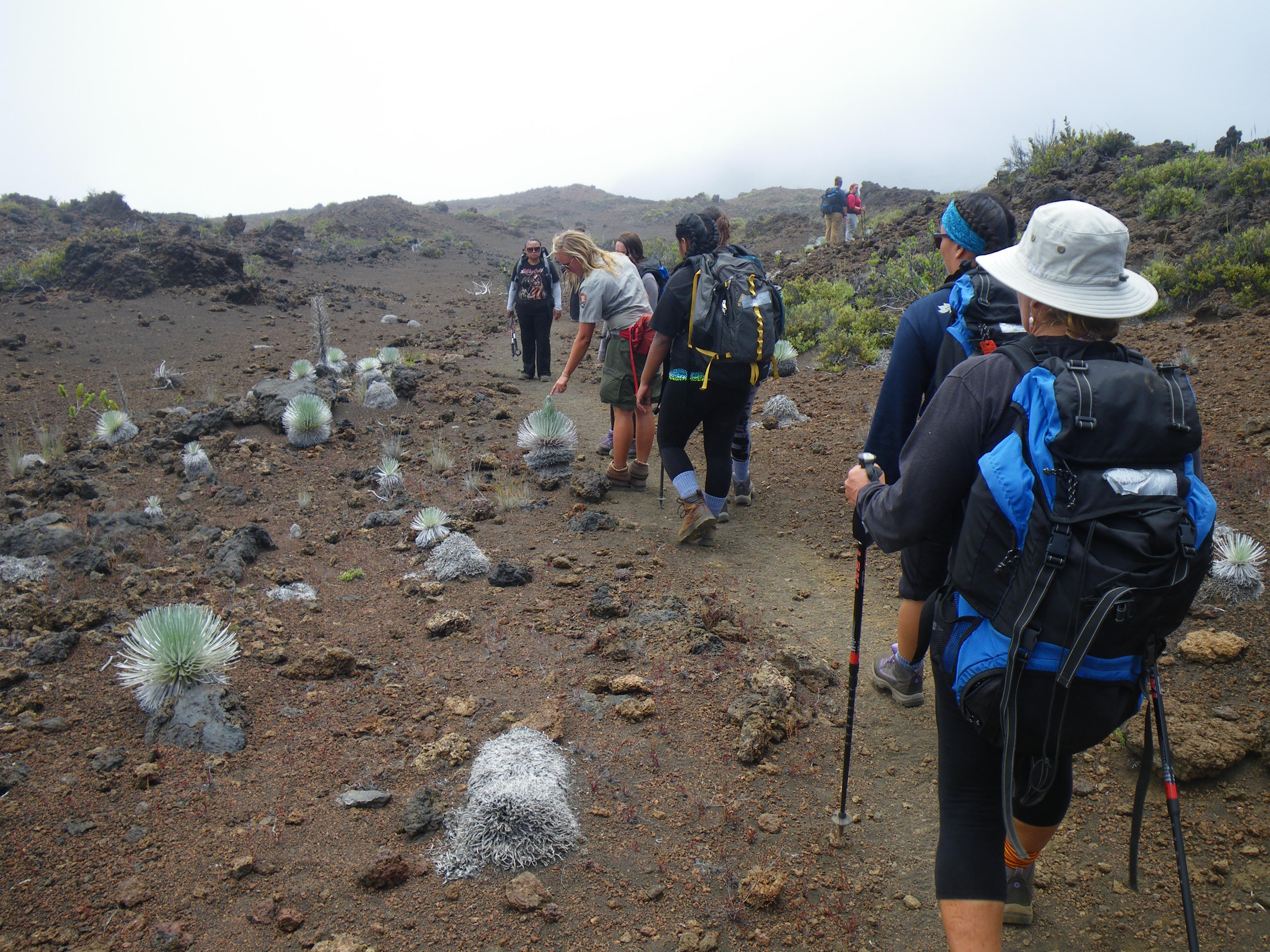 Employee Jenna Fish teaches girls about silverswords. NPS
Haleakalā National Park is committed to supporting youth through the Girls Court wilderness immersion program as well as many other education and internship programs. To learn more about these opportunities please visit our webpage at: https://www.nps.gov/hale/getinvolved/volunteer.htm.