Volunteer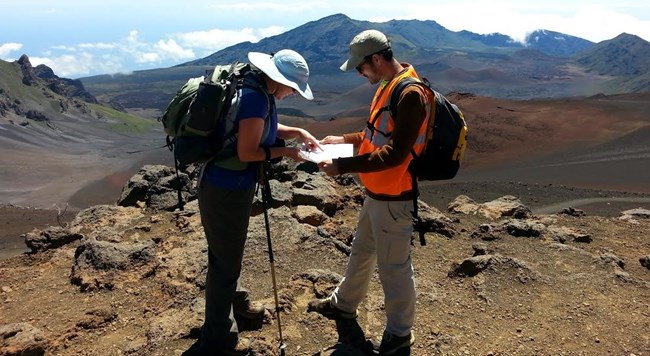 Volunteers are essential members of the Haleakalā National Park team. They further the preservation of the park by doing a variety of jobs across all divisions of the park, from interpretation to resource management, facility maintenance, and more! Volunteers help the park by being present for visitors on the trails, monitoring and removing invasive plant species, protecting vulnerable wildlife and habitat, and assisting park operations across the board.
The majority of our opportunities are geared towards people who live on the island of Maui and are able to commute into the park. Housing for volunteer opportunities is not provide. If you are interested in volunteering with Haleakalā National Park, please see opportunities below.
Current Volunteer Opportunities
Getting Started
First, review the current volunteer opportunities. Once you have found an opportunity that interests you, follow either option below to apply.
Option 1
: Click "apply online now" in the lower left corner of the volunteer opportunity page on
www.volunteer.gov/
.
Option 2
: Download the
volunteer application
and mail or email it to the volunteer coordinator (
e-mail us
). Please specify which position(s) you are applying for and provide detailed information about your experience with references.
Volunteer.gov
The National Park Service and many other federal land and resource agencies depend on the work of volunteers. At www.volunteer.gov/ you'll find a wide range of opportunities across the country with the National Park Service, U.S. Forest Service, Bureau of Land Management, U.S. Fish & Wildlife Service, U.S. Geological Survey, and more.
Friends of Haleakalā National Park Projects
Please view this FHNP website for more information, including how to sign up for these opportunities.
Summit Backcountry Service Trips - These are demanding 3-4 day cabin and tent based backpacking trips with expectations of physical labor, usually removing invasive weeds from off trail locations. In addition to the physical conditioning, backpacking experience and suitable gear are required. Some loaner gear is available, but sturdy boots are an absolute necessity. In addition to gear, bring a great attitude, mutual respect, flexibility, and willingness to share. The backcountry environment can be harsh, with extremes of temperature and weather possible, but is also very fragile. Trip leaders love to answer questions about geology, history, cultural aspects and of course the botanical training to identify invasive weeds and native plants.
Kīpahulu Service Trips - One of the many FHNP opportunities is volunteering for the 3 day trip to the Kīpahulu district of the park. As a member of this volunteer team, you may assist the district in removing grasses and weeds from the many archeological and cultural sites, or doing other necessary work to support the NPS team. Volunteers that attend this opportunity will be camping near the Kīpahulu bunkhouse. This is a great opportunity to see the aspects of the park not visible in the Summit District, and help keep the park accessible and beautiful.
Monthly Nursery Service Opportunities - This opportunity is for volunteers with interest in assisting the park vegetation crew. Under the leadership of Mary Santa Maria, this group meets the first Tuesday of each month just inside the park entrance at the greenhouse. The mission includes preparing and nurturing endangered native plants in the extreme climate of the upper slopes of Haleakalā, cleaning and organizing vegetation equipment, and assisting the Resource Management team with additional projects. On occasion there is the chance to clean and sort geologic specimens that were removed from the park by visitors and sent back. This is a combination of indoor and outdoor activities, so prepare and dress for wind/cold/rain. If you plan to bring tools or gloves, be sure to clean them prior to prevent spread of weeds or invasive species.


Last updated: October 13, 2023