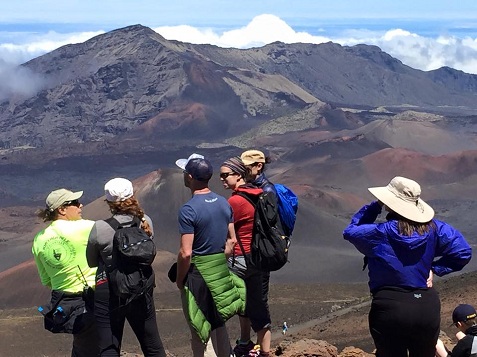 News Release Date:
May 12, 2015
Contact: Polly Angelakis, 808-572-4450
The deadline to apply for the park's Kia`i ala Hele (Trail Guardians) volunteer program is Wednesday, May 20. Families are particularly encouraged to apply.
Trail Guardians educate backpackers and hikers about the unique natural and cultural resources of Haleakalā. The minimum time commitment is 6 hours a month for 6 months. Three required training sessions will be offered: Wednesday, May 27, 5pm-8pm, at the Pukalani Community Center;Saturday, May 30, 8am to 5pm, at park headquarters;and Saturday, June 20, 8:30am to 5pm, at park headquarters. Trainings will cover natural and cultural resources, education, emergency protocols, and CPR/First Aid.
The program was piloted in 2014 with funding provided by the Hawai`i Pacific Parks Association, a non-profit park partner. Twelve of the original 14 volunteers continue to participate, including the Hunt and Kavula families, who saw Kia`i Ala Hele as way to spend family time in a place they all love.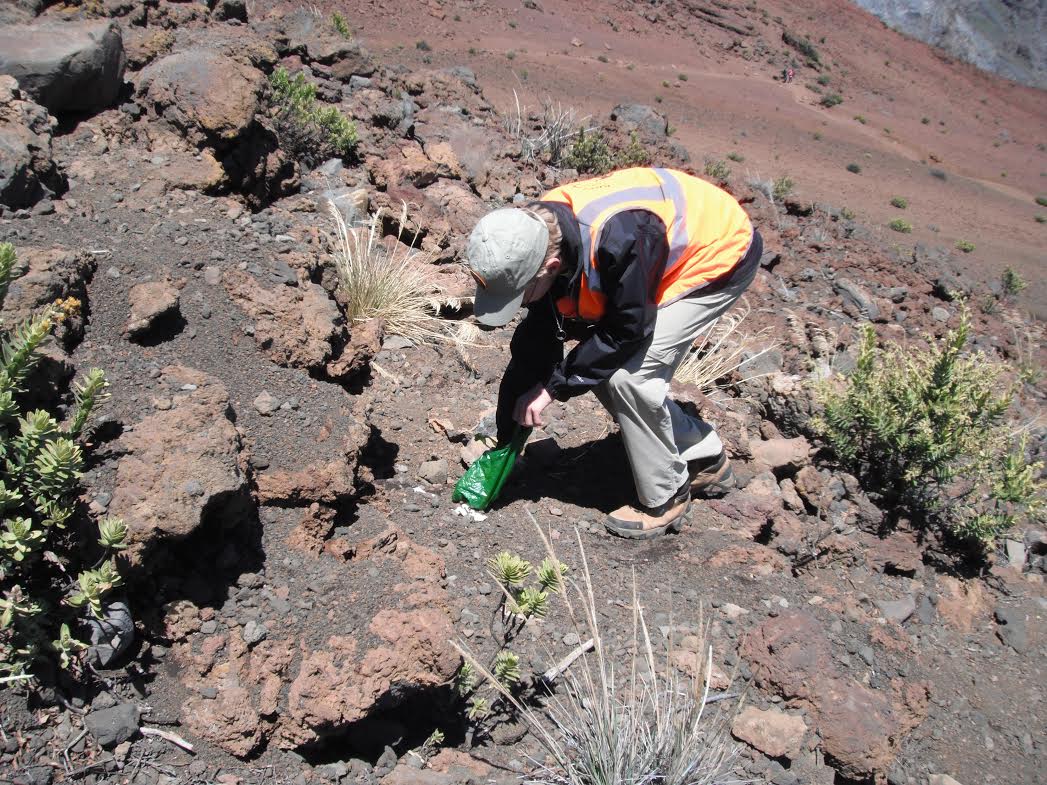 Ryan Hunt picks up trash along Sliding Sands Trail. NPS
"I was immediately drawn to Kia`i ala Hele," said Jennifer Hunt, who volunteers with husband Terry and 13 year old son Ryan. "We have been hiking in Haleakalā with our son since he was 5. It is a beautiful place and we knew early on that we had found something special.  It's such a great opportunity for Ryan and kids today in general, to "unplug" and see what is out in the real world.  We all really enjoy having a reason to go up there once a month. It has been a great experience for us." 
"My husband Kevin and I signed up to give back to the community and provide a support network for the National Park Service," said Cyndee Kavula. "Being Trail Guardians allows us, as a couple, to learn and educate visitors by being part of a team that preserves and protects Haleakalā. The future of our National Parks depends on all of us!"
"The experiences of the Hunt and Kavula families highlight what a powerful experience volunteering in a national park can be," said superintendent Natalie Gates. "A key focus of the 2016 National Park Service Centennial is connecting local people to their local parks. Kia`i Ala Hele is one way we are building those connections."
Volunteers are needed in the Kīpahulu and Summit Districts. For more information and to apply go to: https://www.nps.gov/hale/getinvolved/volunteer.htm. Click on the "Kia`i Ala Hele" links for training information and the application.