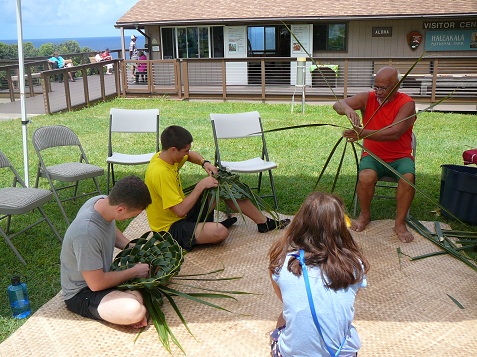 News Release Date:
May 28, 2015
Contact: Polly Angelakis, (808) 572-4450
On Monday, June 1, cultural practitioner Bolly Helekahi will launch the 2015 Hana No`eau cultural demonstration series, in the Kīpahulu District of Haleakalā National Park. Helekahi will teach coconut weaving between 1pm and 3pm.
Hana No`eau refers to demonstrating and honoring Native Hawaiian traditions.
"We are proud to offer the second year of this series," said superintendent Natalie Gates. "We appreciate the support of the Hawai`i Pacific Parks Association, our non-profit partner, in funding Hana No`eau."
The weekly demonstrations are offered in Kīpahulu on Sundays or Mondays between 1pm and 3pm;and in the Summit on Fridays or Saturdays from 10am to 12pm. For a list of planned events please visit www.nps.gov/hale/planyourvisit/things2do.htm.
Practitioners wishing to participate in this series will find an application at any Haleakalā National Park visitor center or online at https://www.nps.gov/hale/getinvolved/index.htm.