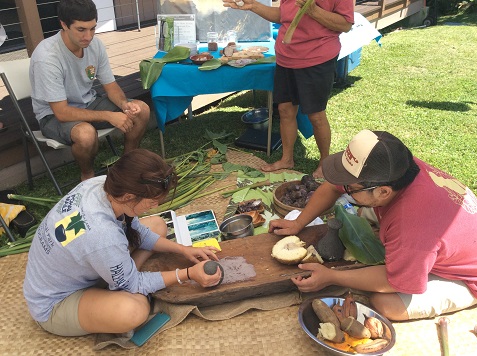 News Release Date:
May 13, 2016
Contact: Polly Angelakis, 808-572-4450
Haleakalā National Park seeks cultural practitioners from local communities for Hana No`eau, a series of cultural demonstrations that will be offered in the park's Kīpahulu and Summit Districts.
The series is open to all practitioners. Schools and community youth groups are especially encouraged to apply. The series will run from mid-July to mid-September. Summit District demonstrations will occur between 10am and 12pm on Saturdays. Kīpahulu District cultural demonstrations will occur between 1pm and 3pm on Sundays.
"Hana No`eau can refer to honoring and demonstrating Native Hawaiian traditions," said Polly Angelakis, chief of interpretation. "The park's Centennial year is an especially fitting time to honor and share the wisdom and knowledge passed down from countless previous generations."
Through support from the park's non-profit partner, the Hawai`i Pacific Parks Association, an honorarium of $200 will be offered to each group of practitioners.
Spaces are limited and filled on a first come, first served basis. Instructions on how to apply can be found at any Haleakalā National Park visitor center or online at www.nps.gov/hale/getinvolved/index.htm.