Operating Hours & Seasons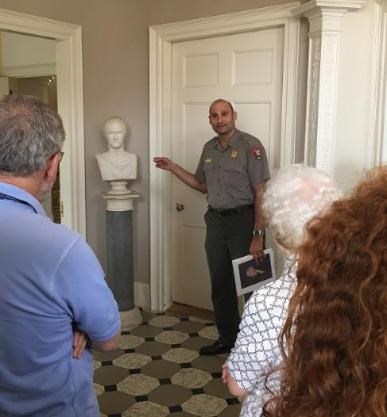 Site Access
Hamilton Grange National Memorial is open for self-guided tours on Fridays, Saturdays, and Sundays, between 10 am - 12 pm, and 1 pm - 4 pm, beginning on Sunday, May 29th and Monday, May 30th, 2022.
Reservations
Please book a reservation to visit Hamilton Grange National Memorial in advance by emailing hagr_info@nps.gov with your party size (maximum of 5) and desired date and time of visit. The last tour of the day will take place at 3:45 pm. Reservations are valid upon reciept of a confirmation. Please allow up to 24 hours for a confirmation on the reservation.
Self-Guided Open House

Open houses are a relatively self-guided experience where visitors will be able to view the rooms at their own pace. A Park Ranger or volunteer will always be available to answer questions.

Although our open houses are self-guided, we are still limited to 5 persons at a time on the period-furnished floor. Please check in at the front desk as soon as you arrive so that you can sign up to visit the floor, but be aware that there may be additional wait time.

Please Note:
Backpacks and large bags (including large purses and camera bags) are prohibited in the period rooms.
No food or drink is allowed in the period rooms.
Still photos (no flash) are allowed in the period rooms.
There is an elevator on-site to assist with those that have mobility limitations. If you will require the use of the elevator, let us know before your visit if possible by emailing hagr_info@nps.gov.


Last updated: June 26, 2022