Operating Hours & Seasons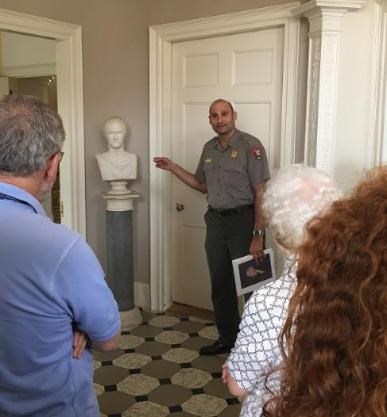 Site Access
Please note that at this time, the interior of Hamilton Grange is closed for access. Tours of the historical home are currently unavailable. However, access to the grounds and garden remain open. For future updates to future site access, please check this website. For tour information during regular operations, use the drop-down menu below.
Hamilton Grange National Memorial is open to the public Wednesday through Sunday year-round, except on Thanksgiving Day and Christmas Day.

The visitor center (bookstore, exhibits, restrooms) is located in the lower level of the house and is open from 9 a.m. to 5 p.m. Hamilton Grange is located within New York City's Saint Nicholas Park, which is open from 6:00 a.m. to 1:00 a.m., but the grounds immediately surrounding the building are National Park Service property and maintain the same operating hours as the visitor center.

The historically furnished rooms are located on the floor above the visitor center and may only be visited with a ranger during guided tours and self-guided open houses. Places on tours can be reserved in-person on a first-come-first-served basis, and only for groups of fewer than ten (10) people.

Groups consisting of ten (10) or more people wishing to visit the historically furnished rooms are required to make advance reservations. Please see the "Permits and Reservations" page for information on how to schedule group tours. For more information on guided tours and open houses, please scroll down.
 
Visiting Hamilton's Historic Home
Beginning August 26, 2020, Hamilton Grange will reopen access to its rose garden and surrounding grounds.With public health in mind, the following facilities/operations remain closed/suspended at this time:
Historic House and Museum
Restroom Facilities
For more information please see: HAGR Grounds Access - Hamilton Grange National Memorial (U.S. National Park Service) (nps.gov)
 
Guided Tours
Guided tours are generally about 30-45 minutes long and include a short video about the move and restoration of the house. They are offered at:

10:00 a.m.**
11:00 a.m.**
2:00 p.m.

We are limited to 15 persons per tour and are currently experiencing high visitation, so try to arrive a minimum of 30 minutes before the start of the tour that you would like to join. Please note that early arrival does not guarantee that there will be space available on a tour.

**We prioritize reserved group visits on Wednesdays, Thursdays and Fridays between the hours of 10:00 a.m. and 12:00 p.m. If you plan to visit during those times, please call during normal operating hours and speak directly with a park ranger, so that you can confirm availability.
 
Self-Guided Open House

Open houses are a relatively self-guided experience where visitors will be able to view the rooms at their own pace. A Park Ranger or volunteer will always be available to answer questions. The self-guided experience is scheduled for two 1-hour periods:
12:00 - 1:00 p.m.
3:00 - 4:00 p.m.

Although our open houses are self-guided, we are still limited to 15 persons at a time on the period-furnished floor. Please check in at the front desk as soon as you arrive so that you can sign up to visit the floor, but be aware that there may be additional wait time.
 
Please Note:
Backpacks and large bags (including large purses and camera bags) are prohibited in the period rooms.
No food or drink is allowed in the period rooms.
Still photos (no flash) are allowed in the period rooms.
The period rooms can only be accessed by a steep and narrow staircase. Elevator service to the historic floor will be unavailable until further notice, due to repairs. We apologize for the inconvenience.
Our tour schedule is subject to change. Please call ahead to ensure that your desired tour time will be available when you visit.


Last updated: January 21, 2022