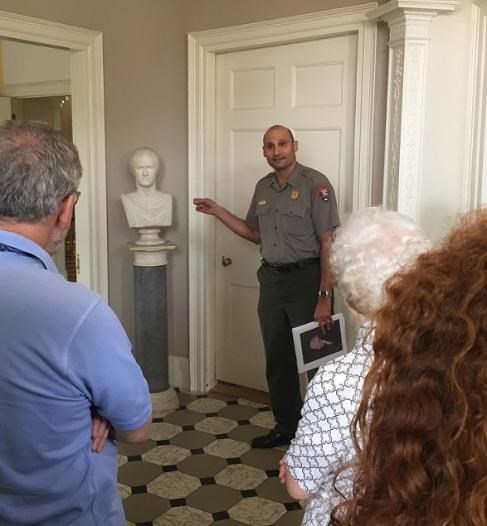 Hamilton Grange National Memorial is open to the public Wednesday through Sunday year-round, except on Thanksgiving Day and Christmas Day.
The visitor center (bookstore, exhibits, restrooms) is located in the lower level of the house and is open from 9 a.m. to 5 p.m. Hamilton Grange is located within New York City's Saint Nicholas Park, which is open from 6:00 a.m. to 1:00 a.m., but the grounds immediately surrounding the building are National Park Service property and maintain the same operating hours as the visitor center.
The historically furnished rooms are located on the floor above the visitor center and may only be visited with a ranger during guided tours and self-guided open houses. Places on tours can be reserved in-person on a first-come-first-served basis, and only for groups of fewer than ten (10) people.

Groups consisting of ten (10) or more people wishing to visit the historically furnished rooms are required to make advance reservations. Please see the "Permits and Reservations" page for information on how to schedule group tours. For more information on guided tours and open houses, please scroll down.