News Release
Project provides access to trails along the Potomac River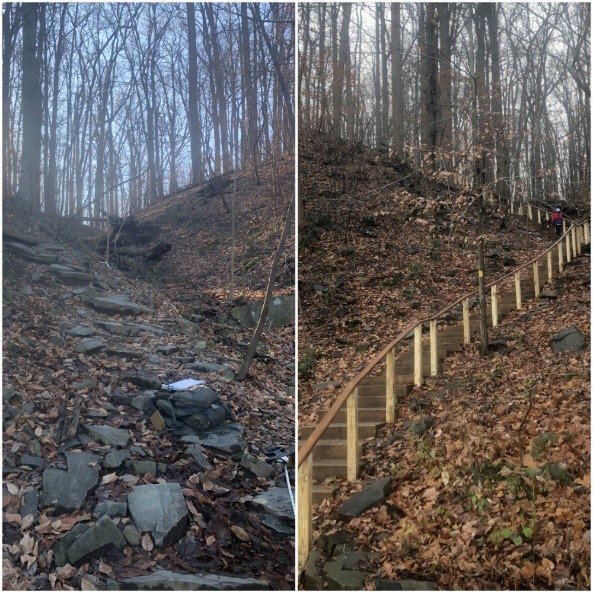 News Release Date:
March 5, 2022
Contact: Aaron LaRocca, 202-438-6619
Contact: Rob Aldrich, 703-526-0535
McLean, Va. — The National Park Service (NPS) and the Potomac Appalachian Trail Club (PATC) hosted a ceremony today to officially reopen a half mile section of trail within the George Washington Memorial Parkway at Turkey Run Park. The ribbon cutting ceremony honored the contributions of more than 100 volunteers who gave more than 1,000 hours to transform the section of the trail. This project represents the largest volunteer-designed and built trail project in the D.C. metro area.
This project took more than four years to complete, and multiple trailer loads of supplies and materials. Now, the trail allows for safe and easier access to the Potomac Heritage National Scenic Trail, which parallels the Potomac River. Volunteers rebuilt this section of trail, adjacent to the C-1 parking area, which was eroded due to age and location—on a steep gorge leading to the Potomac River.
"This project is a great example of the success we can have when park staff work together with partners and volunteers to meet the needs of visitors," said Charles Cuvelier, superintendent of the George Washington Memorial Parkway. "We embrace the collaboration, trust, and open communication we have with partners and are grateful to PATC and the volunteers for making this project possible."
"Volunteers, under the leadership and guidance of volunteer Robert Fina, were able to build a massive wooden staircase of over 100 steps that descends nearly 170 feet in under .2 of a mile," said Joe Lombardo, PATC president. "This daunting task required the skill and dedication of experienced crew leaders to design and execute a unique trail rehabilitation plan that provided improved access and was sensitive to the natural setting of the park."
Turkey Run Park along the George Washington Memorial Parkway helps to preserves a vertical slice of the Potomac Gorge ecosystem that contains a combination of flora, upland forest, streams, underground seeps, and flood terraces. The Potomac Gorge contains more than 240 rare species and natural communities some found almost nowhere else on Earth.
PATC is a volunteer-based organization founded in 1927 by the people who planned and built the Appalachian Trail. The Club now manages over 1,000 miles of hiking trails in the Mid-Atlantic region, along with cabins, shelters, and hundreds of acres of conserved land.
###
Last updated: March 5, 2022