News Release
New superintendent named for George Washington Memorial Parkway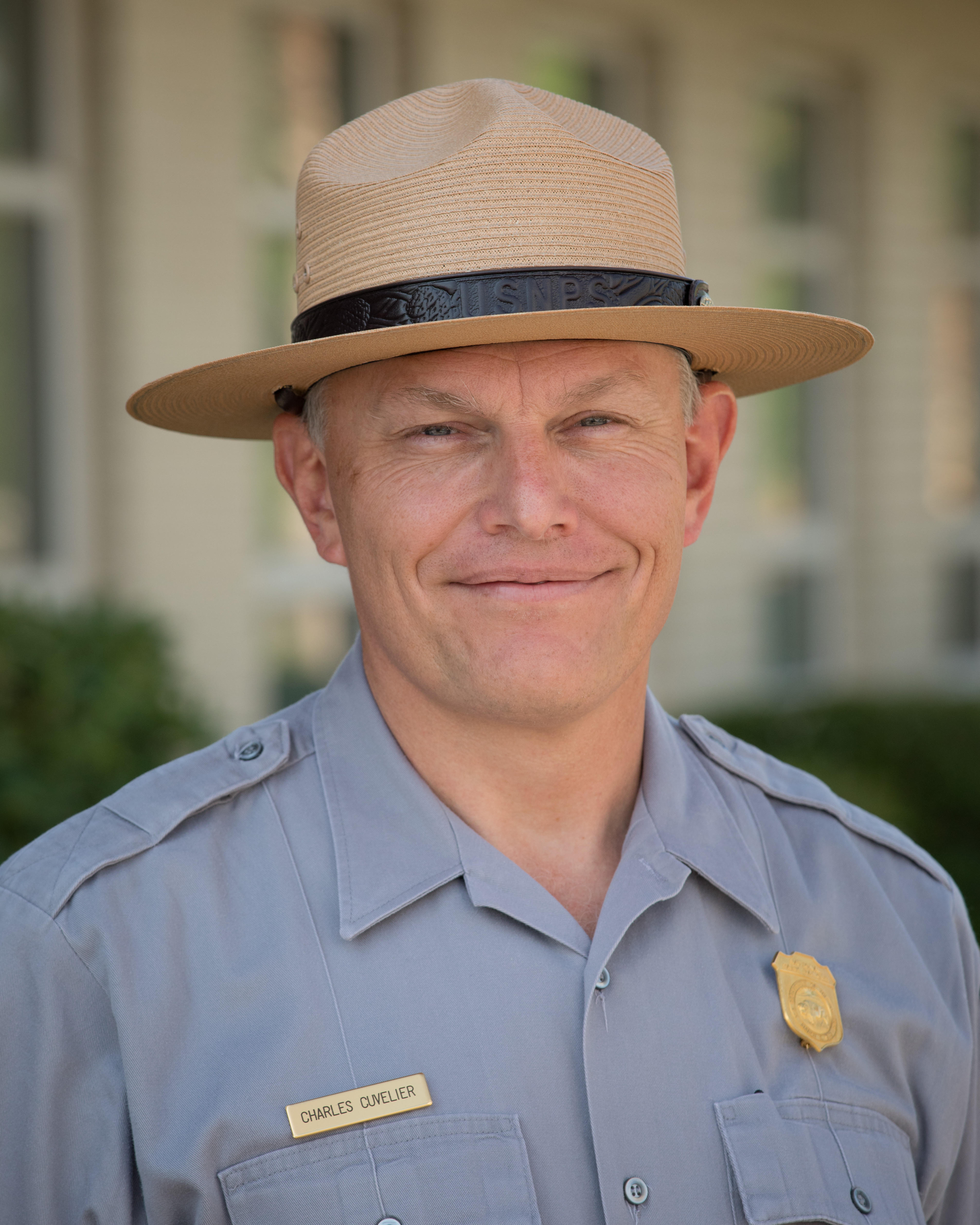 News Release Date:
November 29, 2018
Contact: Jenny Anzelmo-Sarles, 202-619-7177
WASHINGTON — Charles Cuvelier, a 26-year veteran of the National Park Service (NPS), will be the next superintendent of George Washington Memorial Parkway (GWMP). He is currently the NPS's chief ranger at its headquarters in Washington. Cuvelier will begin his assignment in late January 2019. He replaces Alexcy Romero who is now superintendent of Fire Island National Seashore (N.Y.).
As GWMP superintendent, Cuvelier will be responsible for the park's $13 million annual budget and 120 employees. More than 9 million visitors come to GWMP and the sites along it each year. He will advance or complete projects, including the rehabilitation of the northern section of the parkway and of Arlington Memorial Bridge, one of the largest infrastructure projects in NPS history. He will oversee the rehabilitations of Arlington House, The Robert E. Lee Memorial, and the U.S. Marine Corps War Memorial, both made possible by donations from philanthropist David M. Rubenstein. Visitors to the parkway and its associated sites contributed more than $69 million to the local economy in 2017.
"I am excited to join the employees, partners and volunteers who give their time and talent to connect people to the parkway and the special places along its route," Cuvelier said. "We're investing in our infrastructure so people can enjoy this historic roadway and discover all the natural beauty, rich history and fun that the park offers."
As the chief of law enforcement, security, and emergency services, Cuvelier provides oversight and direction to the NPS Law Enforcement Training Center, Investigative Services Branch, Office of Professional Responsibility, Emergency Services, Law Enforcement Operations and Policy, and Security and Intelligence. He is responsible for managing a $21 million annual budget. As superintendent of GWMP, he will collaborate closely with the United States Park Police, which provides law enforcement and public safety services to the park.
"Charles comes to George Washington Memorial Parkway with skills and perspective gained while working in national parks across the country and at National Park Service headquarters," acting National Capital Regional Director Lisa Mendelson-Ielmini said. "His focus on safety, ability to communicate, understanding of complex operations, and eagerness to collaborate with local and federal organizations and partners make him a great leader for the park's next chapter."
Cuvelier recently completed a five-month assignment as deputy superintendent of Lake Mead National Recreation Area (Ariz., Nev.). The 1.5 million-acre recreation area includes Lake Mead and Lake Mohave and serves nearly 8 million visitors each year.
Cuvelier has previously served as chief ranger at Yosemite National Park (Calif.) and Natchez Trace Parkway (Ala., Miss., Tenn.) and as a ranger at Great Smoky Mountains National Park (Tenn., N.C.) and Sequoia and Kings Canyon National Parks (Calif.). He began his NPS career as a seasonal park ranger in Grand Teton National Park (Wyo.). Cuvelier earned bachelors of science degrees in biology and outdoor recreation at the University of Memphis.
###
About George Washington Memorial Parkway: George Washington Memorial Parkway is a scenic roadway and memorial to the first president of the United States. The parkway was designed for recreational driving, and it links sites that commemorate important people and episodes in American history and preserve habitat for plants and wildlife. Key points of interest include the Mount Vernon Trail; Jones Point Lighthouse; Theodore Roosevelt Island; Dyke Marsh Wildlife Preserve; Gravelly Point Park; LBJ Memorial Grove and Lady Bird Johnson Park; Arlington Memorial Bridge; Arlington House, The Robert E. Lee Memorial; U.S. Marine Corps War Memorial;  Netherlands Carillon; Fort Hunt; Glen Echo Park; Clara Barton National Historic Site and parkway; and Great Falls Park.   
Last updated: December 19, 2018