News Release
National Park Service to begin construction on two Mount Vernon Trail bridges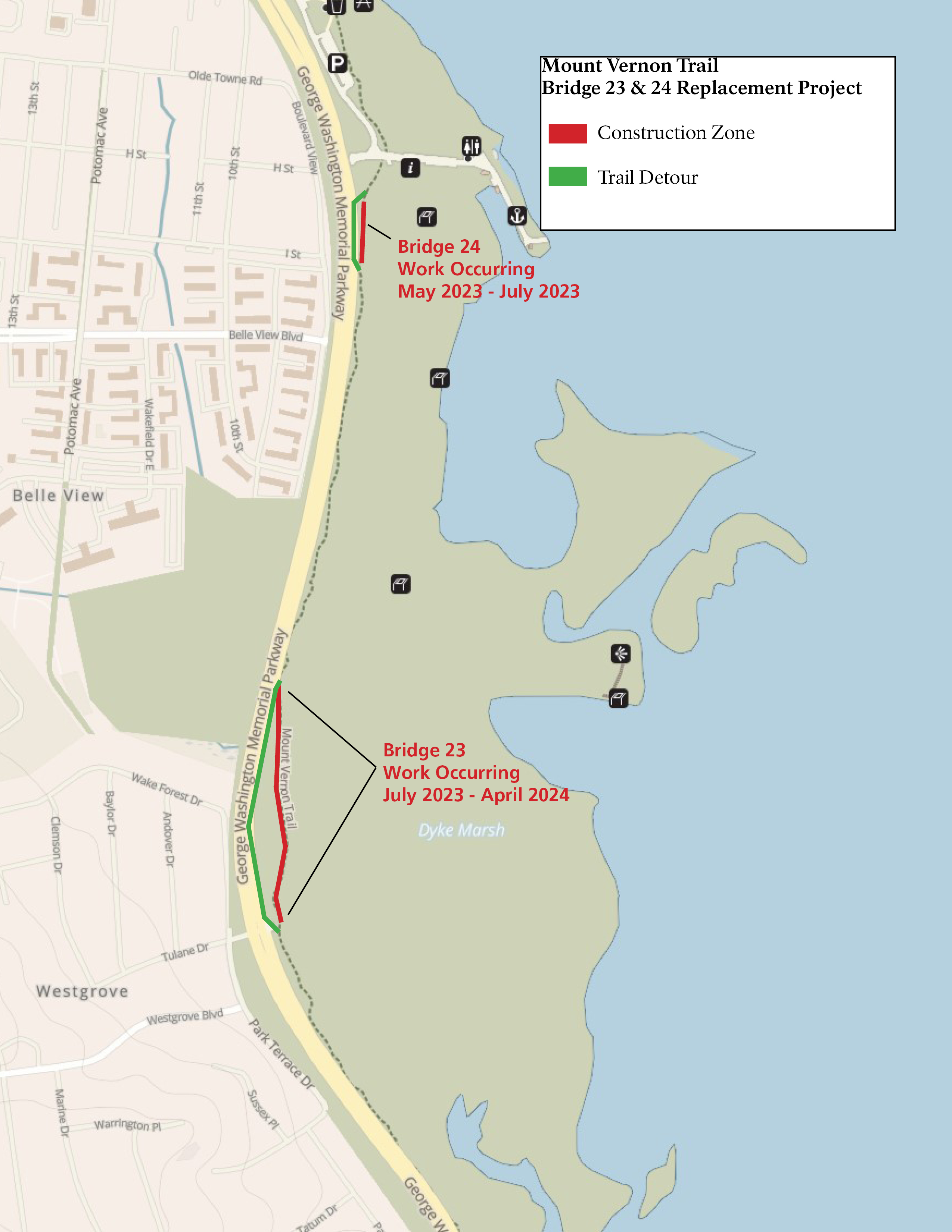 News Release Date:
May 8, 2023
Contact: Dr. Christopher Hershey, 202-439-7323
Contact: Mark Maloy, 571-528-5029
McLean, VA—On May 15, the National Park Service (NPS) will begin a project to replace Bridges 23 & 24 on the Mount Vernon Trail south of Alexandria within Dyke Marsh Wildlife Preserve and near Belle Haven Park. During the project, trail users will be detoured around the construction area.
The NPS will replace and widen the bridges from 10 feet to 14 feet. The NPS will also add new pedestrian safe handrails and rehabilitate a bench and overlook on Bridge 23.
  During this project trail users will be detoured on the adjacent road (northbound section of the George Washington Memorial Parkway). The NPS will reduce the northbound section to one motor vehicle lane and install temporary concrete barriers between the road and detour on the roadway to protect trail users.

Construction will take place in two phases: 
The first bridge to be worked on will be Bridge 24 (the northernmost bridge). Work will begin on May 15 and finish around July. 

Work will then shift to the larger bridge, Bridge 23 in July. Work will occur on this bridge from July 2023 to April 2024, when the project will be completed.
Mount Vernon Trail is an 18-mile paved multi-use trail stretching from George Washington's Mount Vernon Estate to Theodore Roosevelt Island. The trail is a hub for recreational activity and connects with regional trails including the Potomac Heritage National Scenic Trail, Custis Trail, Rock Creek Park Multi-Use Trail, Four Mile Run Trail and Woodrow Wilson Bridge Trail.
-NPS-
Last updated: May 8, 2023