News Release
Arlington Memorial Bridge rehabilitation project reaches halfway point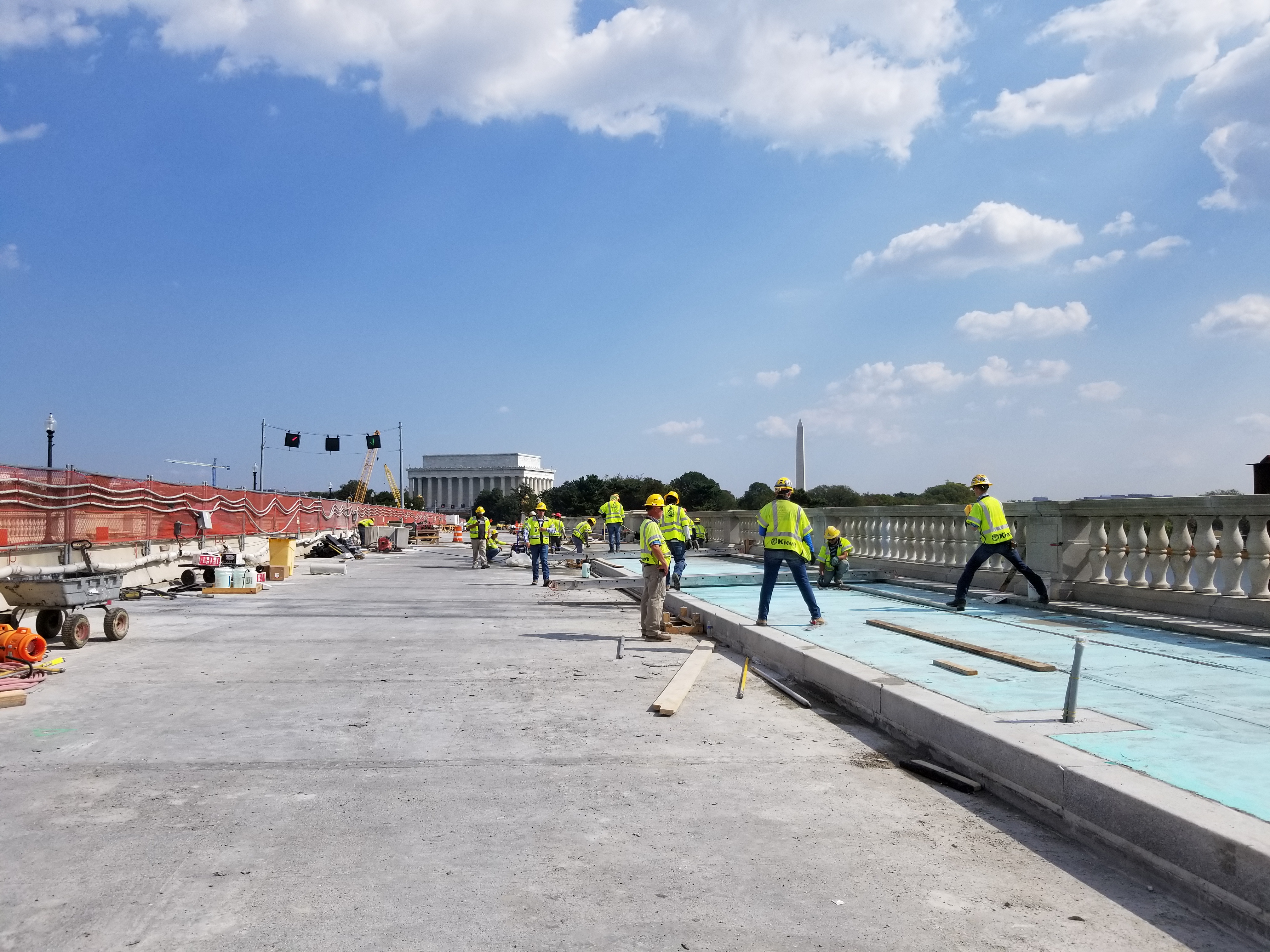 News Release Date:
October 9, 2019
Contact: Jonathan Shafer, (202) 619-7186
WASHINGTON— Arlington Memorial Bridge will close to drivers, pedestrians and bicyclists from 10 p.m. on Friday, Nov. 1 until 5 a.m. on Monday, Nov. 4. During the closure, workers will prepare the southside of the bridge to accommodate traffic. When the bridge reopens, drivers, pedestrians, and bicyclists will use the newly rehabilitated southside.
After the temporary closure ends, the lane configuration will be the same as it is now:
 
One lane will be open eastbound (into D.C.).  

One lane will be open westbound (toward Va.).  

One lane will be reversible to accommodate rush hour traffic.
 
The schedule for lane shifts will also stay the same. Monday through Friday, the reversible lane will run eastbound (into D.C.) from 4 a.m. to noon and westbound (toward Va.) from noon through the overnight hours until 4 a.m. On Saturdays, Sundays and federal government holidays, two lanes will always run eastbound and one lane will always run westbound. Drivers should watch the overhead signals on the bridge to know which lanes are open for travel in their direction. 
Drivers and cyclists should exercise caution and expect to see construction workers in the road 30 minutes before and after the scheduled times for traffic shifts. Detours for pedestrians and cyclists will be signed. Cyclists and pedestrians are reminded to please use crosswalks and refrain from taking shortcuts across these busy roads.
Watch the NPS construction animation to see a simulation of the whole rehabilitation project.
The total rehabilitation of Arlington Memorial Bridge began in fall 2018 and is on schedule to end in early 2021. So far, workers have:
 
Replaced the concrete structures that support the southside of the bridge.

Installed new pre-cast concrete panels to replace half of the bridge deck.

Placed new steel beams on the southside of the bridge.

Cleaned, repaired and reinstalled the bridge's historic granite balustrade.
The bridge's 10-ton load restriction is in effect for the duration of the project.
Check online for updates at go.nps.gov/MemorialBridge.
###
#MoreThanABridge Since its dedication in 1932, Arlington Memorial Bridge has served as a monument to national sacrifice and valor—a symbol of reunification, spanning the historic divisions of the North and South. As one of the largest transportation infrastructure projects in National Park Service history, the rehabilitation of Arlington Memorial Bridge will give new life to our Capital's ceremonial entrance while respecting its character, history and national significance. Learn more at go.nps.gov/memorialbridge.
Last updated: October 9, 2019