Things To Do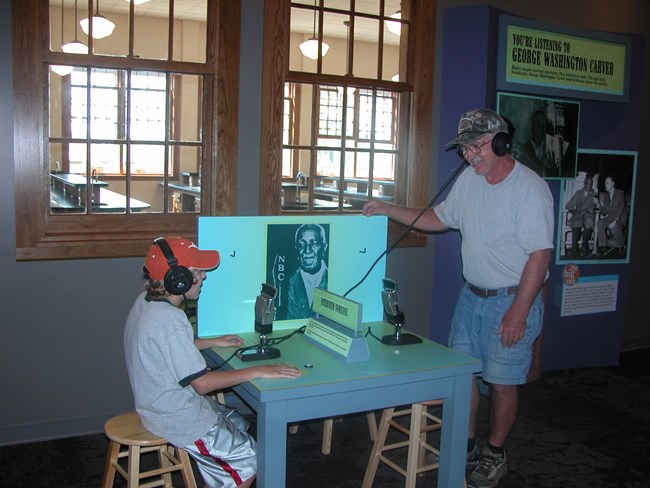 Things To Do!
T
here are many things to do and see at George Washington Carver National Monument:
Watch the park film, Struggle and Triumph: The Legacy of George Washington Carver (28 minutes)
Tour three floors of museum exhibits on the life and legacy of George Washington Carver
Kids can explore interactive exhibits in the Discovery Area
Participate in Junior Ranger programs
Hike the one-mile Carver walking trail
Guided tours of the Carver trail take place daily at 10 a.m. and 2 p.m.
Explore the park store
Annual Special Events
Check the web calendar for upcoming programs
If you are planning a trip to Missouri, visit the official
Missouri Tourism website
for additional things to do around the state.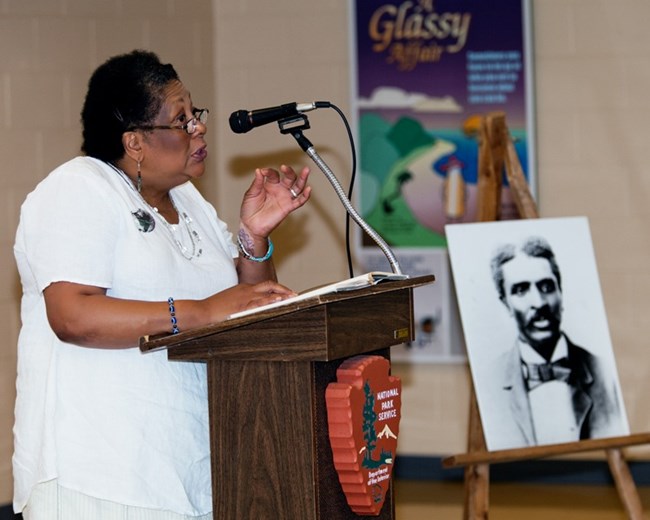 2022 Schedule of Park Special Events
Park Prescription (Rx) Day – April 16 (10:00 a.m. - 1:00 p.m.)
Give yourself the gift of better health with a visit to the park. Park Rx Day is founded on the idea that parks can be gateways to good health-providing fun, accessible places to get some physical activity and to relax and enjoy time with family and friends. Activities to get you moving outside will be offered.
Art in the Park – April 23 (10:00 a.m. - 1:00 p.m.)
Celebrating George Washington Carver's love for art, this event features local artists at work across park grounds. Visitors may participate in hands-on demonstrations and instructional workshops with pastels, natural dyes, pencil, and more. Kids can earn a special "Art in the Park" Junior Ranger badge.
National Trails Day - June 4 (8:00 a.m. - noon)
Adventures are meant to be shared. National Trails Day is a great opportunity to meet new people in your area and share a fun experience on a local trail. Join a Ranger for a guided walk around the park's boundary.
Carver Day Celebration – July 9 (10:00 a.m. - 3:00 p.m.)
Celebrating the establishment of George Washington Carver National Monument, this event features programs interpreting the life of George Washington Carver. Guest musician, and a Junior Ranger station, Join us for a special day celebrating 79 years of George Washington Carver National Monument!
Storytelling Day – August 27 (11:00 a.m. - 2:00 p.m.)
To celebrate the National Park Service's 106th birthday, we invite visitors to come hear stories these special places and spaces hold with storytellers. The event is free of charge and will be held outdoors.
Prairie Day – September 10 (10:00 a.m. - 3:00 p.m.)
Celebrating life on the Missouri prairie during the late 1800s when George Washington Carver was a child, this event includes music, guest speaker, guided tours, special ranger programs, junior ranger activities, and food concession.
National Public Lands Day – September 24 (10:00 a.m. - 3:00 p.m.)
This is a nationwide, volunteer-led workday to improve public lands. Contact the park for more details.
Hispanic Heritage Celebration - October 8 (11:00 a.m. - 2:00 p.m.)
Help us celebrate National Hispanic Heritage Month which commemorates and recognizes the contributions that Hispanic Americans have made to American society and learn about the culture and heritage of various Central American countries.
Holiday Open House – December 3 (1:00 p.m. - 3:00 p.m.)
The park staff and volunteers invite the public to a holiday celebration with seasonal music, craft, and refreshments.
All events are free of charge!


Last updated: August 15, 2022