Multimedia Presentations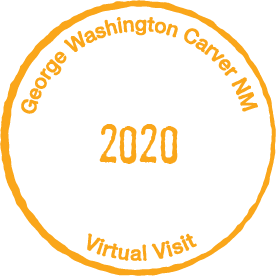 Virtual Visit Passport Stamp!
Can't visit George Washington Carver National Monument? You can still get a stamp for your National Park Passport book for a virtual visit. Watch the park film, "Struggle and Triumph: The Legacy of George Washington Carver" then print this image for your book.
Keep collecting! Visit America's National Parks
Virtual Passport Cancellations
to discover more virtual experiences and collect other virtual passport stamps.
Visit our keyboard shortcuts docs for details
Duration:

28 minutes, 18 seconds
This 28-minute film explores the life of the George Washington Carver. The film features Altorro Prince Black as the adult George Washington Carver and Tyler Black as the young Carver, narration by Sheryl Lee Ralph, and music by Bobby Horton.
Transcript
A park ranger stands outside next to the statue of a boy holding a flower. Hello, my name is Ryan and I'm a park ranger at George Washington Carver National Monument in Diamond, Missouri. I am here with the statue of George to tell you a little bit about his interest in nature and in art. It's here that we preserve the two hundred forty acre area where the famous scientist George Washington Carver was born, enslaved, during the Civil War. After the end of slavery, he grew up here and drew inspiration from the land. One of his favorite things to do was to explore the area. He would explore the fields, the woods, the streams, the prairie, and it was through this, studying that he began to understand more about nature's patterns and rhythms and cadences. So much so that he was being asked by the neighbors to help treat their sick and diseased plants and got a nickname as the Plant Doctor. The beauty of the world that was here when he lived here, caused in him to have a lifelong passion for art. As he grew up his paintings and sketches of the natural life that he saw prompted his college art teacher to suggest studying horticulture, which would later become a study in agriculture which he would teach to his students at Tuskegee Institute in Alabama. His time here shows the major themes of his life: his love of nature, his appreciation for creation, and his passion for art. In fact, he said that there was nothing that he would rather do than to take his art supplies and go out and paint. So what I would like you to do is to do the same. We want you to make an art journal. Take your journal outside and document what you see. Write it, draw it, paint it, or use whatever medium inspires you. And when you're done, we want to see what you've done, so send it to #WriteOut, or send it to the park at gwca_interpretation@nps.gov and we hope to see you sometime soon.
Visit our keyboard shortcuts docs for details
Duration:

2 minutes, 52 seconds
Write Out is a free two-week event, organized as a series of online activities where educators, students, & the public are invited to explore national parks & other public spaces to connect & learn through place-based writing & shares. Write Out is in its 4th year & is sponsored by the National Writing Project & the National Park Service. George Washington Carver National Monument's Writing Prompt: Make an art nature journal-Take your journal outside & document what you see. Write it, draw it, or paint it.


Last updated: September 16, 2021