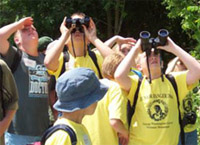 Be a Junior Ranger! Earn a badge by learning about George's boyhood home. Students can complete the Junior Ranger Program on a single visit or by making reservations in advance to participate in Junior Ranger Day. A Summer Junior Ranger Program (2014) is also available for students ages 10 - 12. The dates will be June 7, 14, & 21, 2014.

Upon successful completion of a junior ranger booklet, children are awarded with a junior ranger badge and certificate.

Download one or both booklets.
The Plant Doctor (PDF)
The Scientist (PDF)