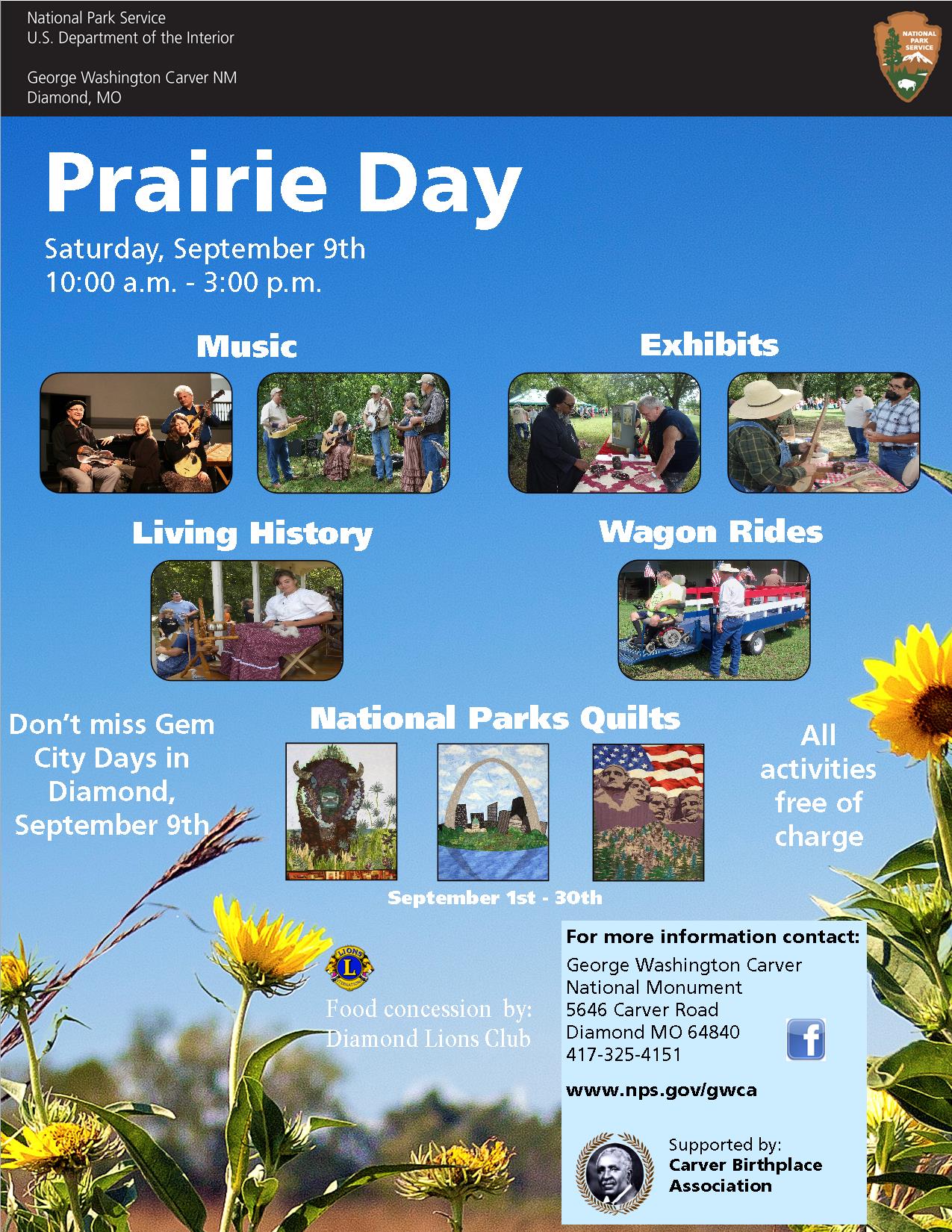 News Release Date:
August 9, 2017
Prairie Day
Saturday, September 9, 2017
10:00 a.m. to 3:00 p.m.
 
The staff of George Washington Carver National Monument invites you to Prairie Day on 
Saturday, September 9, 2017 from 10:00 a.m. to 3:00 p.m.
 Held in conjunction with the City of Diamond's Gem City Days, Prairie Day is FREE of charge. Learn more about George Washington Carver's childhood environment through storytelling, music, living history, and exhibits.
There is something for everyone at Prairie Day and children may earn a special junior ranger badge. Musical performances are scheduled all day at the music tent, the 1881 Carver House, and the visitor center. Storytellers will entertain during horse-drawn wagon rides and there is a wheelchair accessible wagon. A special exhibit, National Parks in Quilts, will be on display throughout September.  
Across the grounds you will be able to watch a banjo builder, enjoy a quilt show, and see a display of wild edibles from master gardeners. Learn more about slavery and the Civil War in Missouri. Talk with experts about geology, birding, and archeology. Visit with Missouri Master Naturalists about grassland plants and animals. Say hello to the horses that provide help and healing to veterans. Walk the trail to the 1881 Moses Carver House and watch basket weavers, dip a candle, watch a blacksmith, try rope making, see wool spinning and weaving, learn about gardening and food preservation, and churn butter.
This "Find Your Park" event invites the public to see that a national park can be more than a place -- it can be a feeling, a state of mind, or a sense of American pride. Beyond vast landscapes, the campaign highlights historical, urban, and cultural parks, as well as the National Park Service programs that protect, preserve and share nature, culture, and history in communities nationwide.
Prairie Day 2017
Prairie Day 2017 (Spanish)