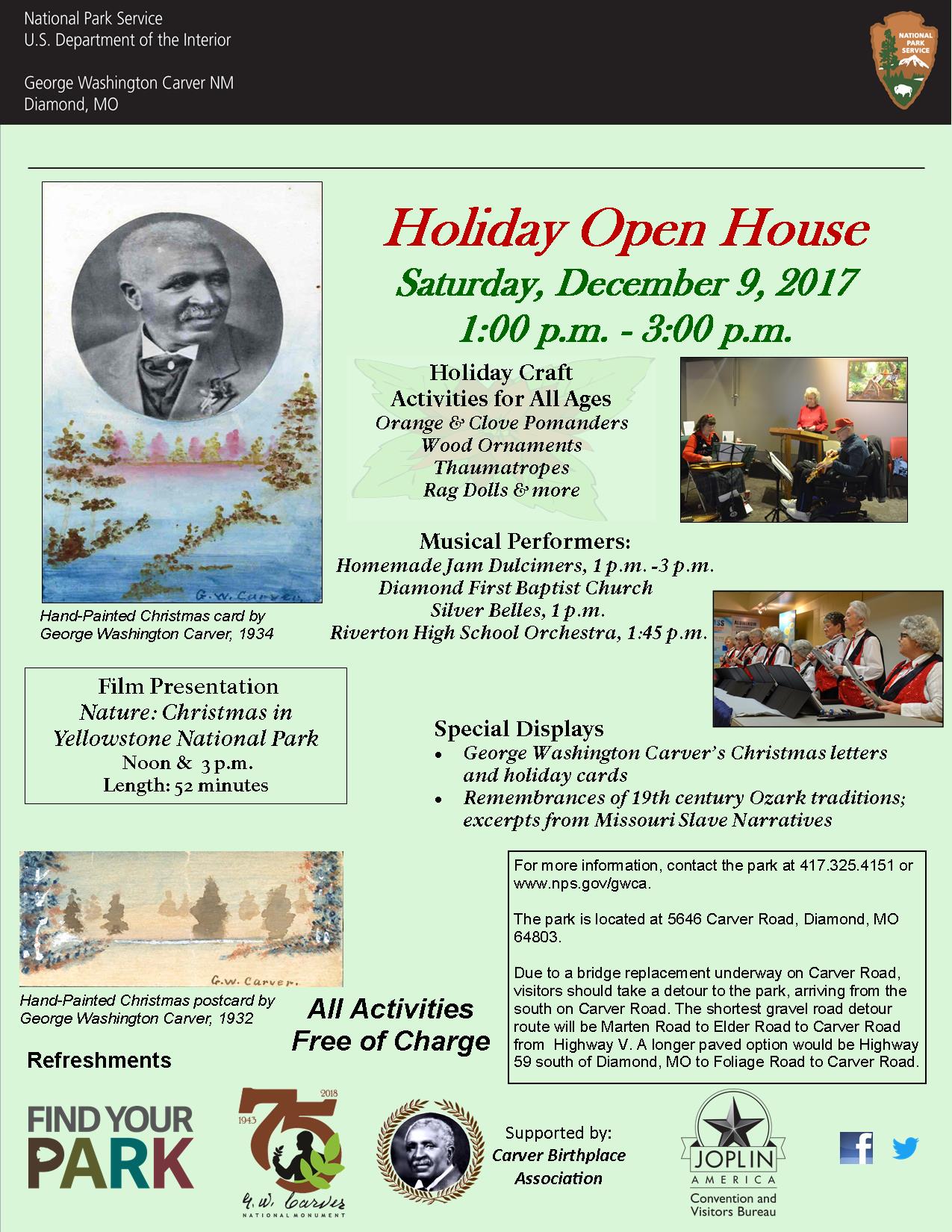 News Release Date:
November 6, 2017

Holiday Open House
Saturday, December 9, 2017
1:00 p.m. to 3:00 p.m. 

The staff of George Washington Carver National Monument invites you to attend our Holiday Open House. This annual event will take place Saturday, December 9th inside the visitor center from 1 p.m. - 3 p.m. Holiday Open House is free of charge and features holiday music, refreshments, and 19th century crafts.
Local musicians Homemade Jam Dulcimers, Silver Bells sponsored by Diamond First Baptist Church, and Riverton High School Orchestra will perform their favorite arrangements. Volunteers and park staff will help visitors create orange and clove pomanders, rag dolls, nature ornaments, homemade greeting cards and more. Cookies and warm cider will add to the festive event!
Several of George Washington Carver's hand-painted Christmas cards and letters will be on display along with remembrances of 19th century Ozark traditions and excerpts from Missouri Slave Narratives.
A special showing of the PBS feature Nature: Christmas in Yellowstone will run at noon and again at 3 p.m. Filmed in 2007, this 52-minute program features the splendor of winter in Yellowstone National Park. Stop by Holiday Open House for a few minutes or spend the entire afternoon and take away an ornament, a song, and season's greetings from park staff!
This "Find Your Park" event invites the public to see that a national park can be more than a place -- it can be a feeling, a state of mind, or a sense of American pride. Beyond vast landscapes, the campaign highlights historical, urban, and cultural parks, as well as the National Park Service programs that protect, preserve and share nature, culture, and history in communities nationwide.
Administered by the National Park Service, an agency of the Department of the Interior, George Washington Carver National Monument preserves the birthplace and childhood home of George Washington Carver, scientist, educator, and humanitarian.
The park is located two miles west of Diamond, Missouri. Due to a bridge replacement underway on Carver Road, visitor should take a detour route to the park, arriving from the south of Carver Road. The shortest gravel road detour will be Marten Road to Elder Road to Carver Road from Highway V. A longer paved option will be Highway 59 south of Diamond to Foliage Road to Carver Road. For more information, please call the park at 417-325-4151 between 9:00 a.m. and 4:30 p.m.