Carver Day 2018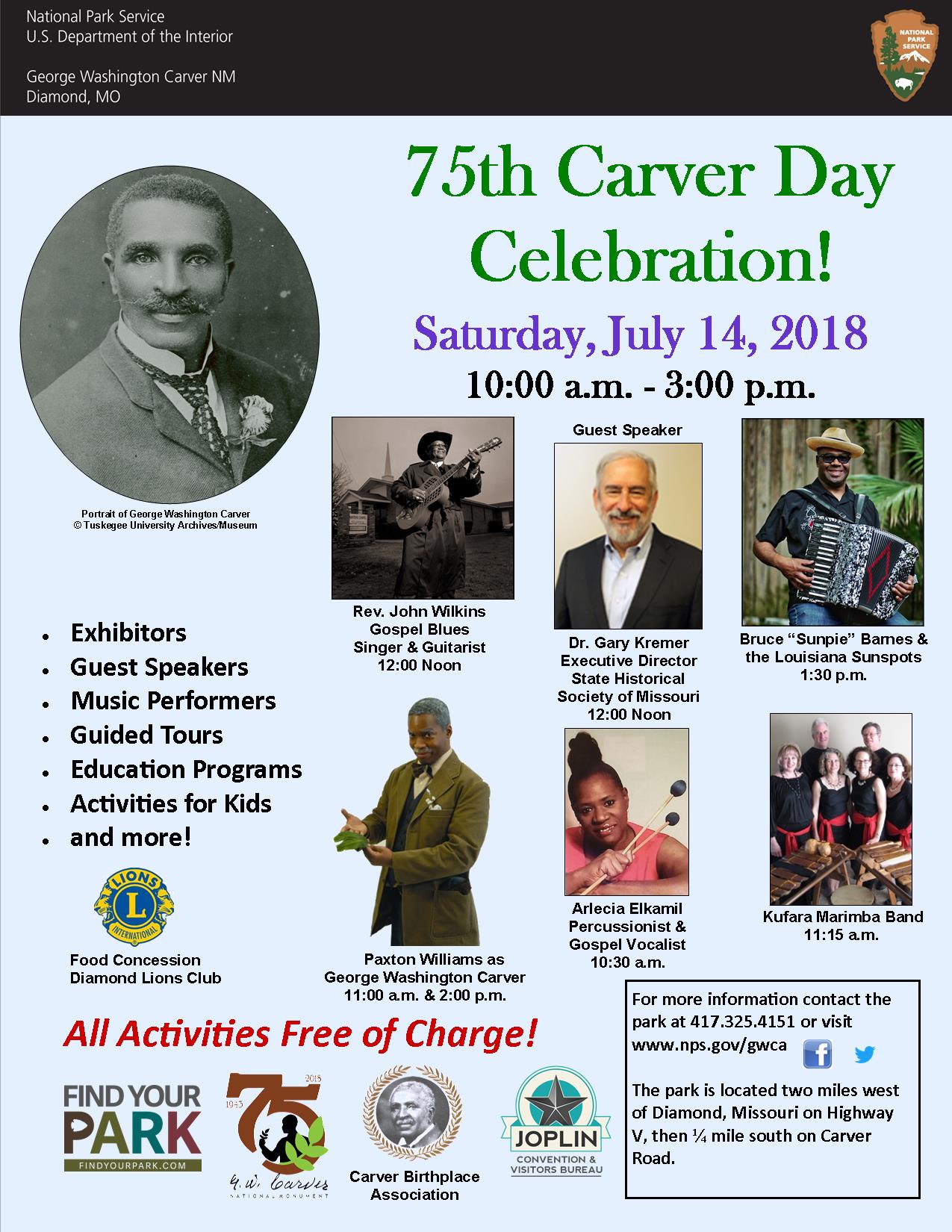 News Release Date:
April 26, 2018
75th Carver Day Celebration!
Saturday, July 14, 2018
10:00 a.m. to 3:00 p.m.
 
Join us for a special day of celebrating 75 years of George Washington Carver National Monument! This event features programs interpreting the life and legacy of George Washington Carver. Guest speakers, musical groups, a Junior Ranger station, and exhibitors are also included.
This year we are commemorating the 75th anniversary of Carver's passing and the subsequent establishment of the National Park on July 14, 1943, the first one to honor an African American. Typically 1,000 to 1,500 visitors enjoy this annual event, and we are hoping for more during this special year.  
The guest speaker for this year is Dr. Gary Kremer. Dr. Kremer is the Executive Director of
The State Historical Society of Missouri and a scholar of African American history. He is the author of several books on the topic, including Race and Meaning: The African American Experience in Missouri. He also wrote many biographies on Carver, including George Washington Carver: In His Own Words.
A long-time friend and supporter of the park, we are thrilled to have Dr. Kremer joining us for this celebration. 
Speaking of long-time friends, we are also excited that the former Executive Director of the Carver Birthplace Association Paxton Williams will return to reprise his legendary role as George Washington Carver in his original one person show Listening to the Still Small Voice.  Like Carver, Paxton is a graduate of Iowa State University, and he has performed as Carver hundreds of times, in addition to roles as Othello, and Paul Lawrence Dunbar. Please join us in welcoming Paxton back to the park!     
Music is a huge part of the Carver Day fun, and we are pleased that we have two nationally recognized acts performing this year. Multi-instrumentalist (and former National Park Ranger) Bruce "Sunpie" Barnes and the Louisiana Sunspots will perform a rich offering of gospel, blues, Cajun and jazz flavored gumbo of roots music. Bruce has performed with the likes of Paul Simon and Sting, and he is a true crowd pleaser! 
Also on the bill is the venerable Reverend John Wilkins, who returns with his full band to perform a unique brand of North Mississippi Hill Country gospel blues. We are also excited to welcome percussionist and gospel vocalist Arlecia Elkamil, as well as the returning marimba masters Kufara!  More will be added, so w

e encourage music lovers to grab a lawn chair, and come on out to make a day of it!

  
Carver Day is also a time for kids to explore the park, and connect to the child who was born here over 150 years ago. There will be peanut milk demonstrations, guided tours, Junior Ranger Activities, and more. The Diamond Lions Club will provide food concessions as well.
Carver Day celebrates the African American experience through speakers, storytelling, music and educational programs. In keeping with Carver's legacy of accessible and affordable education, Carver Day, like all our programs, is free of charge.
More details, including times for the day's activities, will be coming through press releases and social media, so please stay glued to the park's and the Carver Birthplace Association's Facebook pages.
Please come and celebrate the 75th anniversary of George Washington Carver National Monument with us on July 14, 2018. We hope to see you at the park soon, and as always, thank you for your support! The event is free of charge. 
Carver Day Celebration PSA
Carver Day Celebration PSA (Spanish)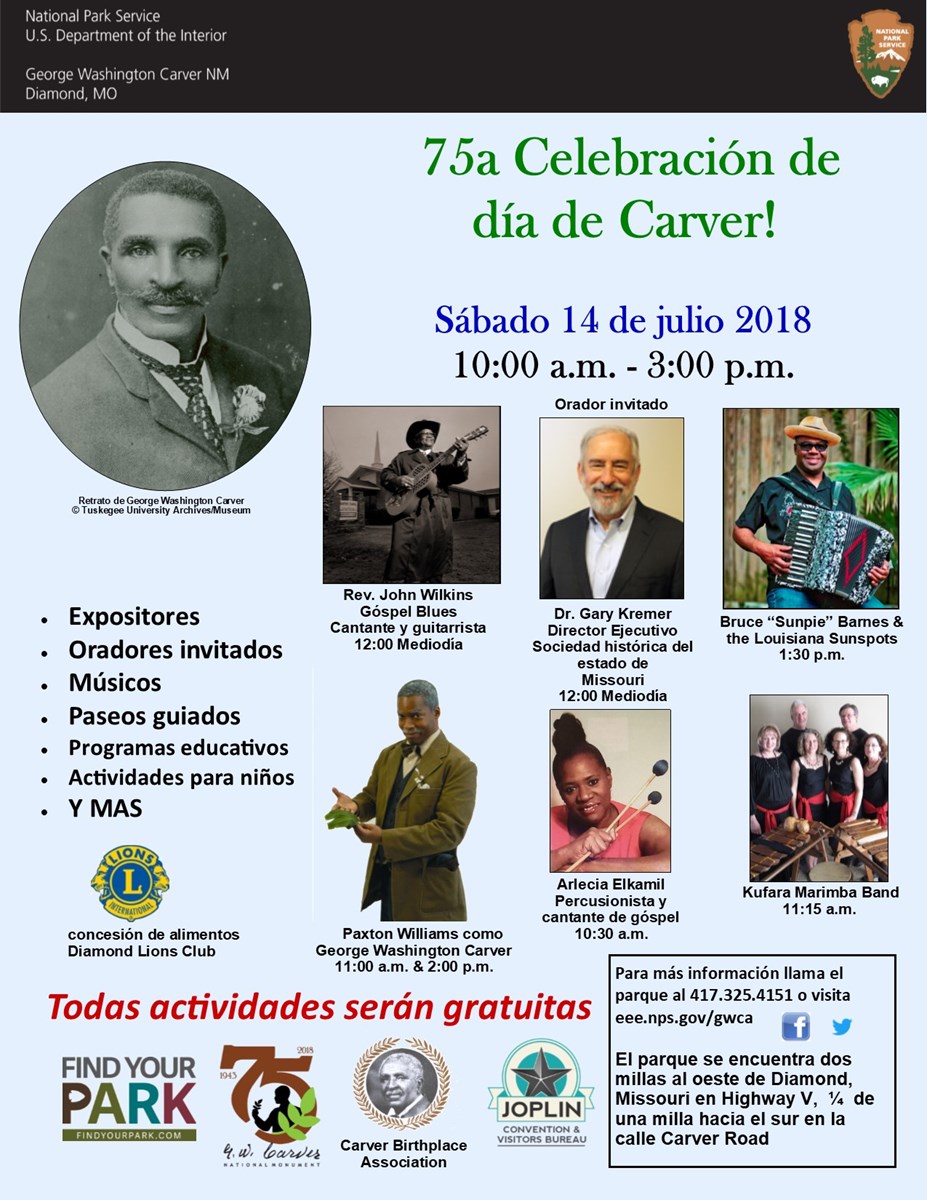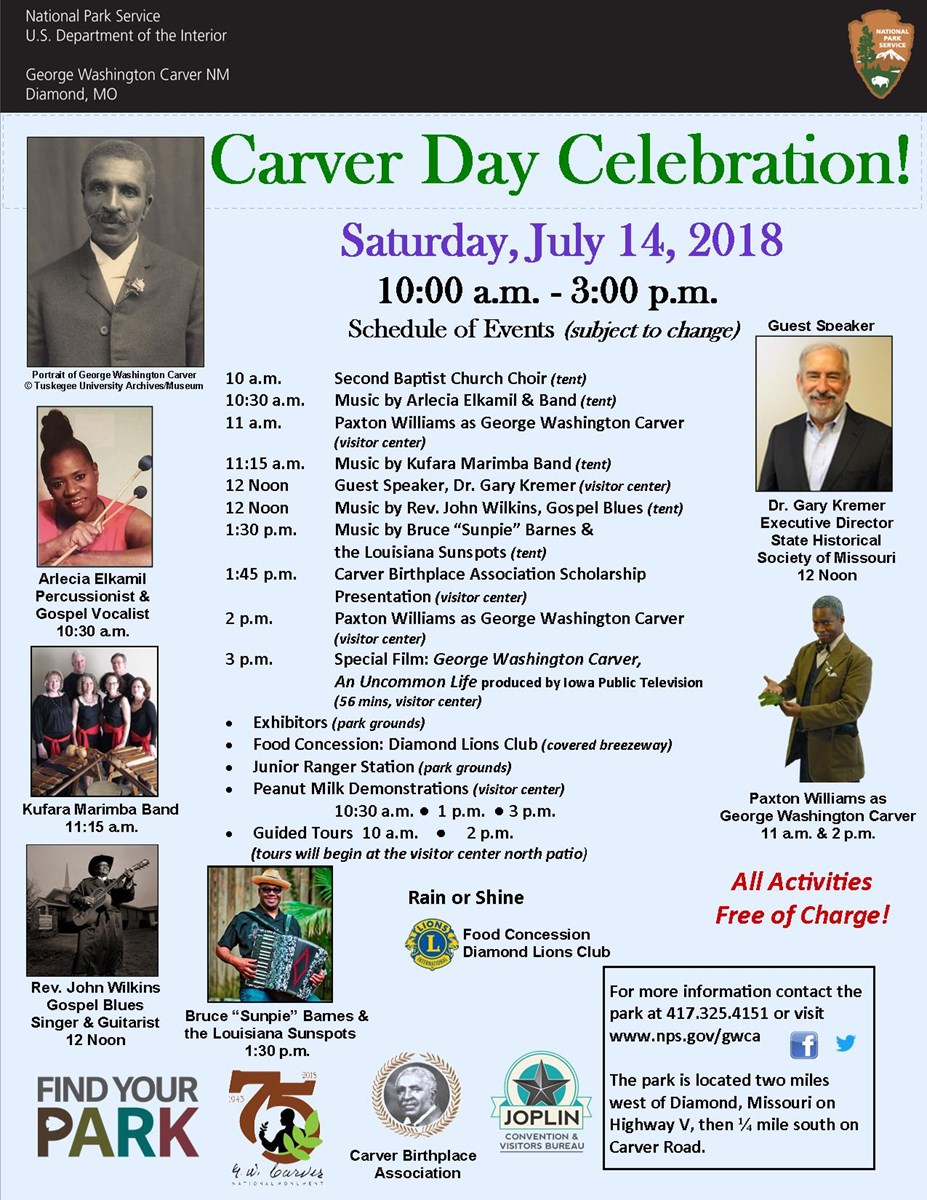 Last updated: July 5, 2018