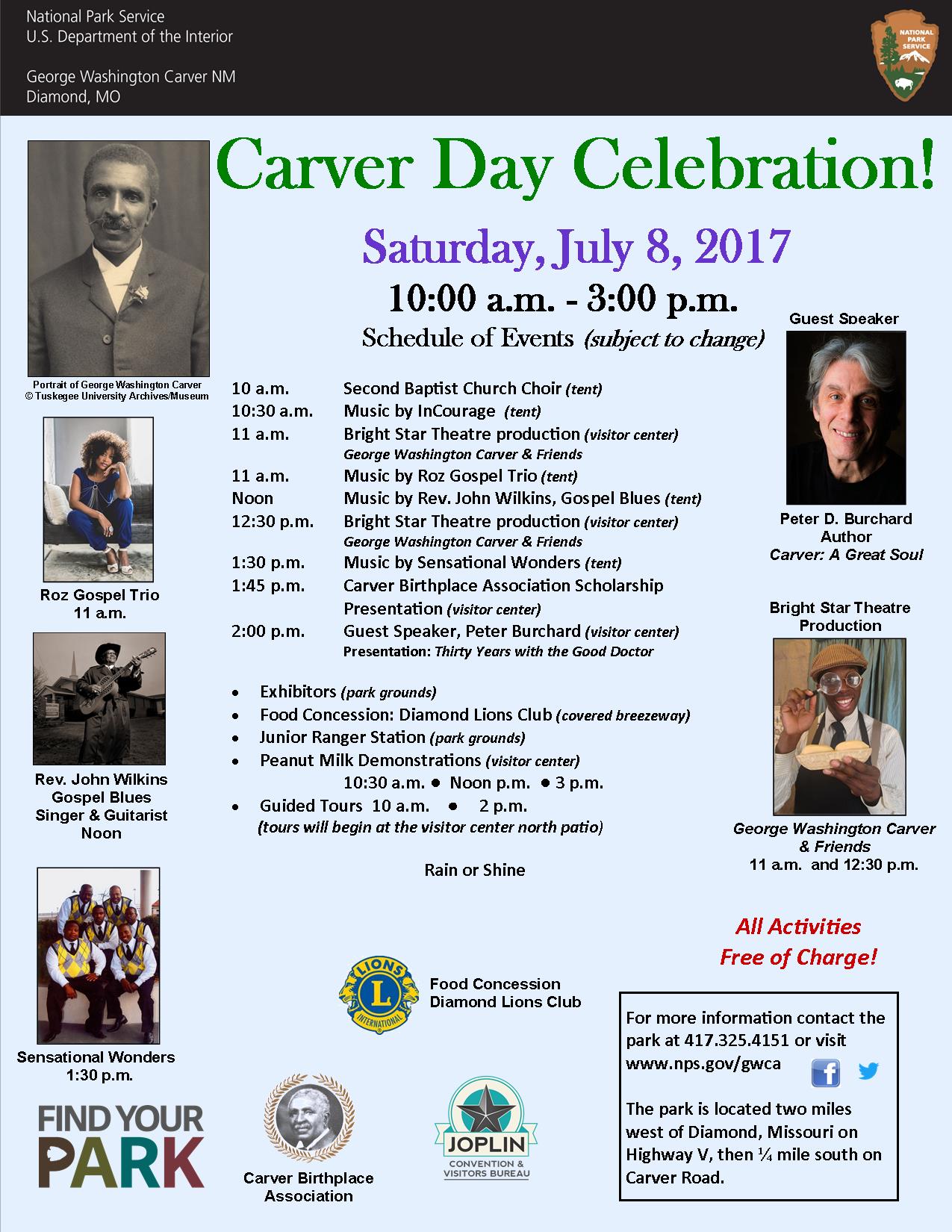 News Release Date:
June 8, 2017
Carver Day
Saturday, July 8, 2017
10:00 a.m. to 3:00 p.m.
Diamond, Missouri: George Washington Carver National Monument is pleased to announce the park's annual Carver Day celebration to be held on Saturday, July 8, 2017 from 10 a.m. to 3 p.m. The public is cordially invited to attend the 74th Carver Day anniversary to commemorate the life of George Washington Carver and the establishment of the national monument in his honor. The event is free of charge.   
Our guest speaker is author Peter Burchard (Carver: A Great Soul). He has championed Carver for years with several books, websites and film, and wrote an excellent study for the park a few years ago called, George Washington Carver: For His Times and Ours. His presentation at 2 p.m. is entitled, Thirty Years with the Good Doctor. Mr. Burchard will have a book signing after his talk. 
Bright Star Theatre will entertain visitors with a production of George Washington Carver and Friends, which includes cameos from Booker T. Washington, Jackie Robison, Thurgood Marshall, and others. There will be two performances at 11 a.m. & 12:30 p.m.Seating will be limited. In addition, performing will be area choirs; InCourage Band (10:30 a.m.); the Roz Gospel Trio (11 a.m.); Memphis gospel blues singer and guitarist, Reverent John Wilkins (Noon); and gospel singing group, Sensational Wonders (1:30 p.m.).
Activities are scheduled throughout the day, including exhibitors, musical performances, guided tours, educational programs, children's activities, Junior Ranger station, and much more. The Diamond Lions Club will provide a food concession. A schedule of events will be announced soon. 
This "Find Your Park" event invites the public to see that a national park can be more than a place -- it can be a feeling, a state of mind, or a sense of American pride. Beyond vast landscapes, the campaign highlights historical, urban, and cultural parks, as well as the National Park Service programs that protect, preserve and share nature, culture, and history in communities nationwide.
Please call the park at 417-325-4151 between 9 a.m. and 5 p.m. for further information.