Camping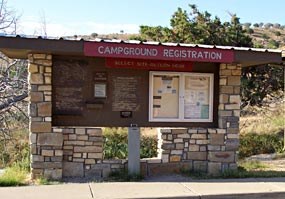 Two developed campgrounds are available in the park:
Pine Springs (Elevation 5,822')
Located just off U.S. Highway 62/180 near the Pine Springs Visitor Center, Pine Springs Campground is a simple, desert camping area situated at the base of the mountain. Individual campsites are all at a first come, first served basis. Campground conveniences include: potable water, accessible flush-toilet restrooms, utility sink, and pay telephones. There are no showers available in the campground.Tent campers have a choice of 20 leveled, gravel sites. Small junipers and oaks partially shade most of the sites and each site has a picnic table. Numbers are limited to 6 people or 2 tents per site.The RV camping area is a paved parking lot with 19 sites to choose from. RV sites are defined by painted lines and numbers on the pavement. There are no hook-ups and there is no dump station. RV water tanks can be filled from an outside water faucet near the registration board; no hose connection for fresh water tanks. RV campsite #21 is wheelchair accessible.
Dog Canyon (Elevation 6,280')
Dog Canyon is in a secluded, forested canyon on the north side of the park. Due to a slightly higher elevation and protected location beneath steep cliff walls, it remains cooler than Pine Springs campground in the summer and sheltered from strong gusty winds in winter and spring. The campground has 9 tent sites and 4 RV sites (maximum length 23 feet, no hookups, no dump station). Restrooms have sinks and flush toilets, but no showers.
Sanitation
Skunks and other small mammals roam the campground at night. These animals are attracted to food odors. Prevent encounters by keeping campsites free of food scraps.
Dispose of scraps and other garbage in trash receptacles.
Store food, including pet food, in vehicles, not in tents.
Please refrain from using faucets in the campground for dish washing or bathing. Wash dishes in the utility sink beside the restrooms.
Discharge of dishwater or gray water on the ground is prohibited. Use the utility sinks for their disposal.
The closest free RV dump station is off Canyon Street in Carlsbad, NM (behind the TNM&O bus terminal).
Pets
Pets on leash are permitted in the campground, but please abide by the following with regard to your pet's welfare, the protection of park wildlife, and consideration of other park visitors:
Leashed pets may be exercised on the trail between the campground and Pine Springs Visitor Center + the Pinery Trail at the Visitor Center. Pets are not allowed on other park trails because they may disturb park wildlife or be harmed themselves by wild animals. There are many rattlesnakes in the park, and park wildlife may carry plague or rabies. Do not allow your pet near animals or their dens or burrows.
Please clean up after your pet.
Pets may not be left unattended. The nearest kennel service (with limited hours) is at Carlsbad Caverns National Park.
Fires
Wood and charcoal fires are strictly prohibited due to generally dry weather conditions and intermittent high winds. Containerized fuel camp stoves are permitted.
Quiet Hours
Quiet hours are from 8:00 PM to 8:00 AM. Generators may not be run during these hours.
Last updated: December 31, 2020