The NPS App
The Official Free App of the National Park Service

One app, every park at your fingertips.
The NPS App is the new official app for the National Park Service (NPS) with tools to explore more than 400 national parks nationwide.

Help plan your trip and enrich your visit to Guadalupe Mountains National Park with this official, free app. Digitally explore the park—by map or by topic of interest. Discover the natural and cultural stories in context with their locations. Find the information you need about visitor centers, events, services, and self-guided tours and trails throughout the park.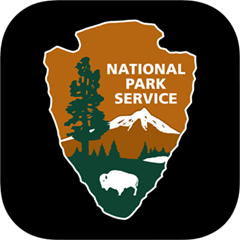 Download the NPS App
The first step to begin your national park app adventure is to download the NPS App onto your mobile devices, such as phones or tablets. The NPS App is currently available for iOS- and Android-powered devices. It can be downloaded for free through the App Store and Google Play.
Using the App
Cellular service within the park is extremely limited. In order to make use of the app while in the park, follow these simple steps before you arrive:

1. Download the app.
2. In the app, navigate to Guadalupe Mountains National Park.
3. Near the top of the app, select "Save this park for offline use."

By doing this, most of the app content will be available for use in the park (the exceptions being alerts, calendar updates, and real-time updates—accessing those items before leaving service will at least keep that information in the app). Even without cellular service, the app will be able to share your location on the map and bring up all the content.
Features
The NPS App was created by National Park Service staff—people who know national parks—to help you make the most of your visit. The NPS App takes authoritative information from park rangers and combines it with a great suite of features. Here's a quick look at some of those features.

Explore the Guadalupe Mountains
Discover park stories right on the home screen. Quickly delve into a topic or site that interests you, from historic sites to hikes to going on self-guided tours. Alternatively, you can explore the park via the interactive map, or even search for a site you've heard about.

Interactive Map and Navigation
Pinpoint your location in the park, find what is nearby, and plan where to go next using the enhanced, interactive map. With your GPS turned on, this app shows your location on the map, as well as information about points of interest nearby. This map will continue to work for you even when you're are offline and without a connection as long as you have downloaded the app content ahead of your visit.

Offline Use
No internet access. No problem! You can download content from entire parks for offline use. It's especially handy if you're exploring remote areas in parks or concerned about data limits.

Park Tours
What is there to see? Self-guided tours take you to interesting places in the park. Discover popular destinations as well as places off the beaten track. It's like having a ranger by your side to guide your trip, giving you suggestions for places to go, directions to get there, and things to do once you arrive.

Favorites
Plan your visit and remind yourself of places, topics, tours, trails, and events that interest you. The app will even notify you when you get near a saved location.

Share Your Visit
Tell your friends and family about the fun things you did by creating and sharing virtual postcards with scenes from the park.

News, Alerts & Events
Get up-to-date information from the National Park Service about what is happening in the park, including ranger programs and current park conditions and alerts. Note that this feature requires internet connection to receive the initial data and for any updates.

Accessibility
The app offers a fully accessible experience with tools to benefit visitors with accessibility needs. All points of interest are audio described, including exhibits and signs, and all images have alternative text. Detailed narrated descriptions of all interior exhibits are available through our NPS Audio Description Tours mobile app. Visitors may download the iPhone version at the App Store.

App-related Questions or Comments
Please contact us with any comments you might have about the app, from issues you might be experiencing or new content you'd love to see in the app. We want to hear from you.
What's Next
We're just getting started. If you don't find what you are looking for now, check back regularly as our rangers continue to add more ways for you to experience each of our parks through the NPS app. The National Park Service is also planning to expand features, so stay tuned for more and make sure to update your app periodically as we update information and add new features.
Last updated: February 22, 2023