Waterfowl Hunting Regulations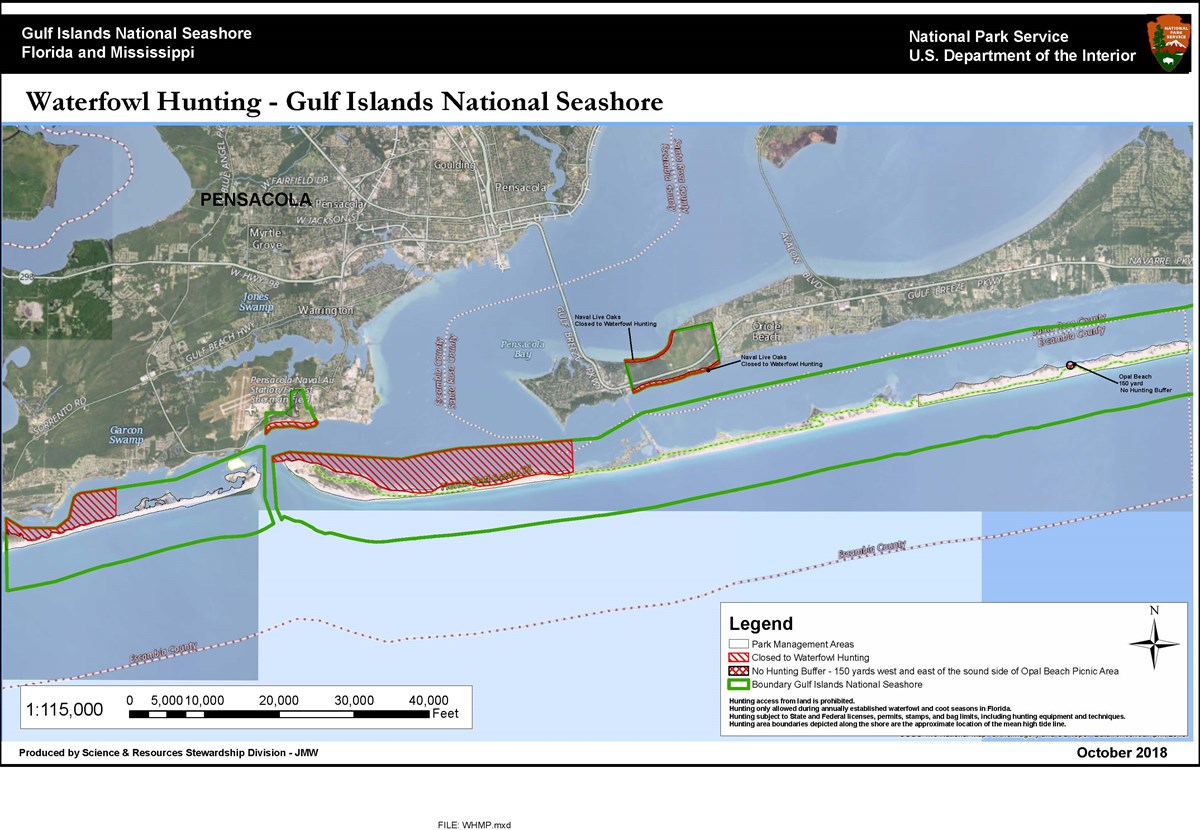 Waterfowl hunting on Gulf Islands National Seashore (GUIS) is in accordance with all State and Federal Migratory Bird regulations. Hunters should consult these regulations before going afield. For annual statewide migratory bird hunting regulations and prohibitions, refer to Florida Fish and Wildlife Conservation Commission at: http://myfwc.com/hunting/regulations/birds.

Unless exempt, hunters must have the following present on their person: a current Florida hunting license, Florida waterfowl permit, migratory bird permit and a Federal duck stamp.

Hunting for waterfowl is permitted up to the mean high water tide line only. The areas closed to hunting are delineated on the GUIS Waterfowl Hunting Map (see above) and includes a 150 yard no hunting buffer west and east of Cluster F picnic area at Opal Beach, Santa Rosa. Hunting areas are open to both hunters and non-hunters during waterfowl hunting season.

Hunting areas within the seashore may be accessed by water only. Hunting or access to hunting areas from land is prohibited. Hunting or carrying loaded firearms shall be prohibited within areas closed to hunting, posted as safety zones, or delineated as non-hunting areas.

Boats may be launched outside the seashore boundaries or from designated boat ramps within the seashore. Boats used for hunting shall be allowed to travel within areas closed to hunting but traveling with loaded guns shall be prohibited in these areas. Locations of Florida public boat ramps can be found at: www.myfwc.com/boatramps

Precaution should be taken when approaching shoreline areas to avoid impacts to sensitive seagrass beds (subaquatic vegetation). Recommended precautionary measures for vessels with motors when approaching shoreline areas include turning motors off and tilting upward so as to be out of the water or removal from the transom and gunnels. Use of electric (trolling) motors, paddling, and poling is recommended in these areas. Within the Red Fish and Spanish cove areas of the Perdido Key Hunting Area the use of internal combustion engines are prohibited. Permitted hunters are allowed the use of electric (trolling) motors, sails or paddles in these seagrass beds within the hunting areas.

In accordance with State Law, youth hunters must remain in sight and normal voice contact with a state permitted adult hunter, eighteen (18) years of age or older.

Hunting is permitted in temporary blinds (including boat blinds) located below the mean high water tide line. Blinds must be removed at the end of each hunt. Construction of permanent blinds and digging are prohibited. All reused blind material, if brought in from outside the park, should be rinsed off-site with water prior to hunting to help prevent bringing non-native pests into the seashore.

The use of non-native plants or plant materials for the construction of blinds or transportation of non-native species into the seashore is strictly prohibited. The harvesting of any seashore plant materials for the construction of a blind is prohibited. No person shall cut, damage, or remove any natural, man-made, or cultural resource without written authorization of the seashore.

Personal Property such as blinds, decoys, boats and other gear must be removed from the field daily.

Discard blind materials outside of the seashore and properly dispose of in accordance with Federal, State and local laws.

Littering is prohibited and glass containers are not allowed on the seashore.

Shooting hours are from thirty (30) minutes before sunrise to sunset.

Shooting over any roadway is prohibited. A minimum separation of three hundred (300) yards shall be required between hunting parties.

The use of retrieval dogs is encouraged. Dogs must remain under the control of the hunter at all times. Dogs are permitted to cross the beach to retrieve downed waterfowl to avoid wanton waste but must remain under the control of the owner. Dogs are strictly prohibited from pursuing or harassing wildlife other than downed waterfowl and are strictly forbidden from roaming the shorelines, beaches, or upland areas with the seashore.

Camping is prohibited.

Professional Hunting Guides are required to obtain a GUIS Commercial Use Authorization and have it in their possession while guiding.

The possession or consumption of alcoholic beverages or drugs is prohibited while engaged in hunting activities. State and Federal laws on alcohol and drug use shall be enforced.

The seashore may execute protective (seasonal, temporary, or permanent) closure of areas to avoid impacts to protected species or protected species habitats. Any closures will be implemented prior to the opening of waterfowl hunting season, usually no later than November 15th annually.

Any person may be ejected from the area, for disorderly conduct, intoxication, failure to abide by the Federal, State or seashore specific hunting regulations or any other conduct which endangers the public welfare. Failure to comply with these conditions and guidelines may result in fines and/or arrests.

In addition to the above restrictions, all activities within the seashore are subject to the Gulf Islands National Seashore Superintendent's Compendium that provides designations, closures, permit requirements and other restrictions imposed under the discretionary authority of the Superintendent of Gulf Islands National Seashore.
For emergencies call 911. Non emergencies contact Gulf Breeze Dispatch at 850-934-4050 or the Florida Fish and Wildlife Conservation Commission at 888-404-FWCC (3922) . If you suspect a fish, wildlife, boating, or environmental law violation, occurring within Gulf Islands National Seashore report it to the Gulf Islands National Seashore: 850-934-4050 or if occurring outside of Gulf Islands NS call FWC's Wildlife Alert Reward Program: 888-404-FWCC (3922). Cell phone users can dial *FWC or #FWC, depending on your service provider.
Last updated: October 4, 2018