Rosamond Johnson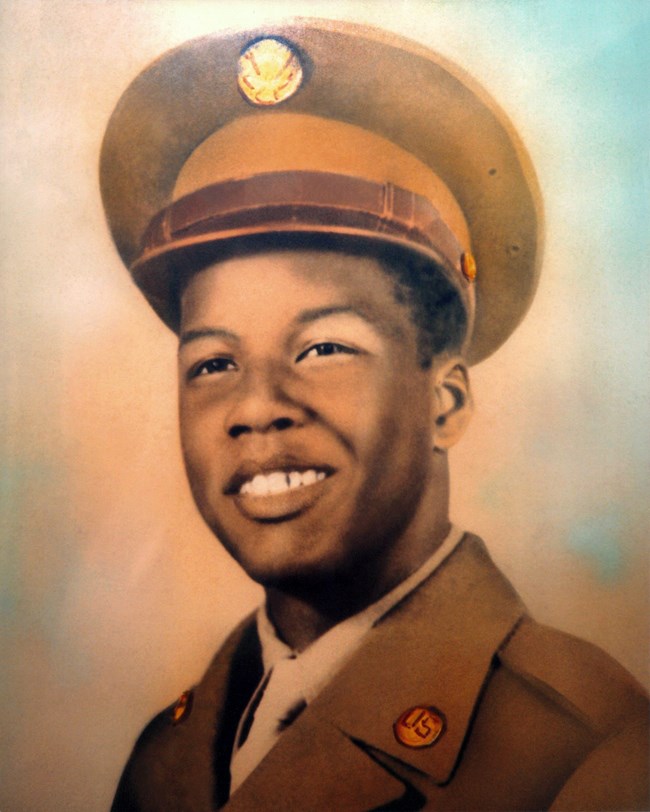 Background
When Johnson was 15, he lied about his age to enroll in the US Army so he could help support his family. As a member of the 24th Infantry stationed in Japan, Johnson and his regiment were some of the first soldiers deployed to fight during the Korean War. On July 26, 1950, after Johnson pulled two wounded soldiers to safety during conflict, he was fatally wounded while attempting to retrieve a third soldier- he was 17 years old. On August 21, 1950, Johnson was posthumously awarded the Purple Heart medal for his heroic actions.
Jim Crow and Segregation
At the time Rosamond joined the Army, his hometown, like many places in the United States at the time was segregated, and Jim Crow laws were in place to limit the rights of African Americans. These laws affected nearly every aspect of public life for African Americans in Escambia County, Florida, including the world-renowned beaches. While places like Pensacola Beach were designated "whites only", the eastern end of Perdido Key became a refuge where black citizens could enjoy the beauty and recreational opportunities of the beach and the Gulf.


Honoring Johnson
After the Korean conflict, the Sunset Riding Club Inc. which had leased the beach on the eastern end of Perdido Key from the county proposed naming the area for Private Johnson in order to honor and remember his sacrifice and the beach's importance within the community. When Gulf Islands National Seashore was established, and the Perdido Key Area was added, the name Rosamond Johnson Beach was retained for the developed swim beach. . Gulf Islands National Seashore and its partners hold an annual Rosamond Johnson Commemoration each May to remember the service and sacrifice of Private Johnson and his family. A monument and wayside about Private Johnson and his service in the United States are permanently installed at the beach.
Learn about the 24th Infantry and African American service during the Korean War.
Last updated: December 4, 2019