Hurricane Katrina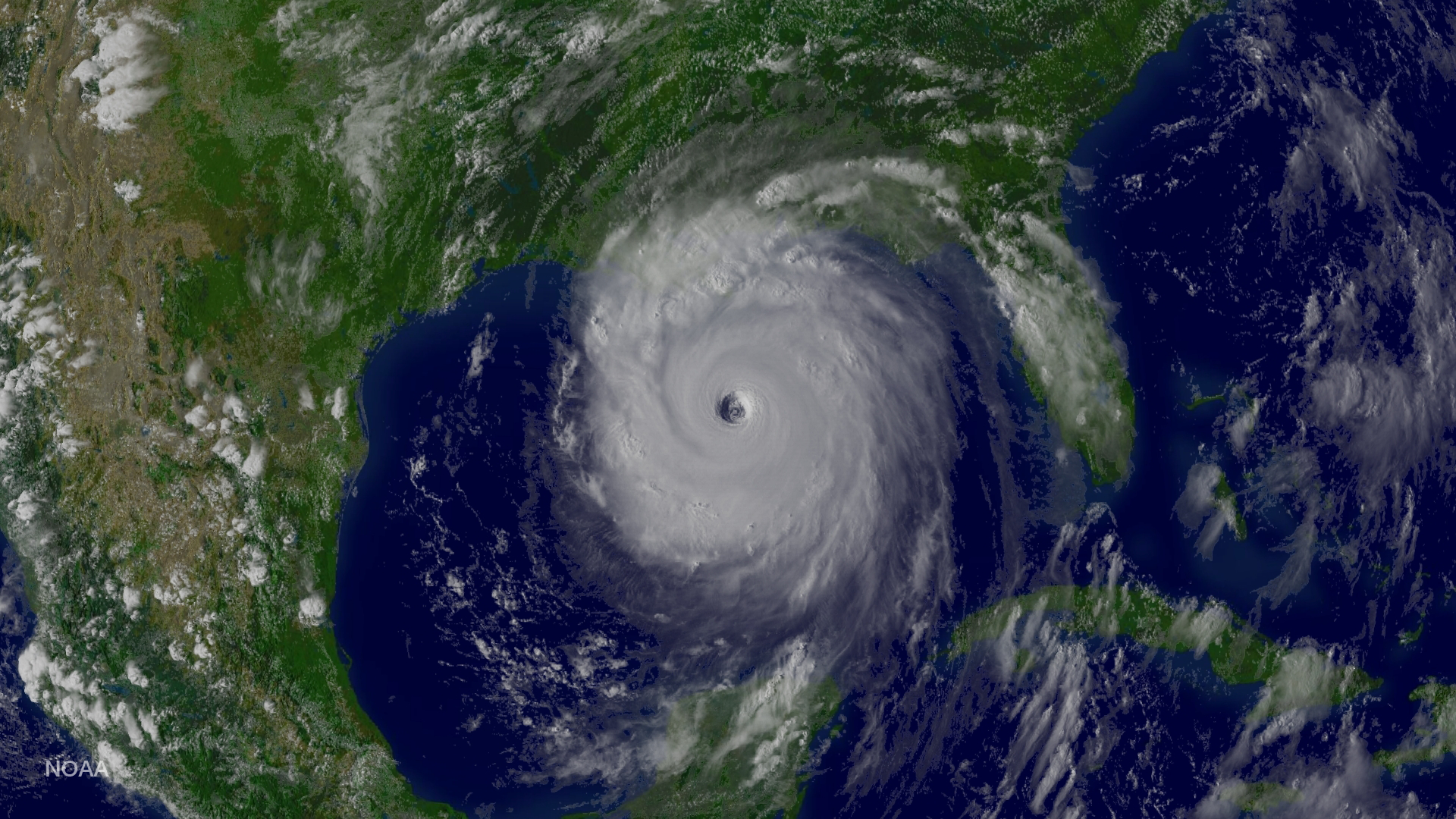 In August of 2005, a catastrophic hurricane hit Florida, Louisiana, Alabama and Mississippi. Hurricane Katrina caused destruction from which many communities are still recovering.
Hurricane Katrina began as a tropical depression that was formed over the Bahamas on August 23, 2005, and strengthened into a tropical storm the next day on August 24, 2005. On August 27, the storm reached Category 3 strength with top winds exceeding 115 miles per hour and was fast approaching Louisiana and Mississippi. Within nine hours of the storm entering the Gulf of Mexico it increased to a Category 5, the highest category on the Saffir-Simpson scale.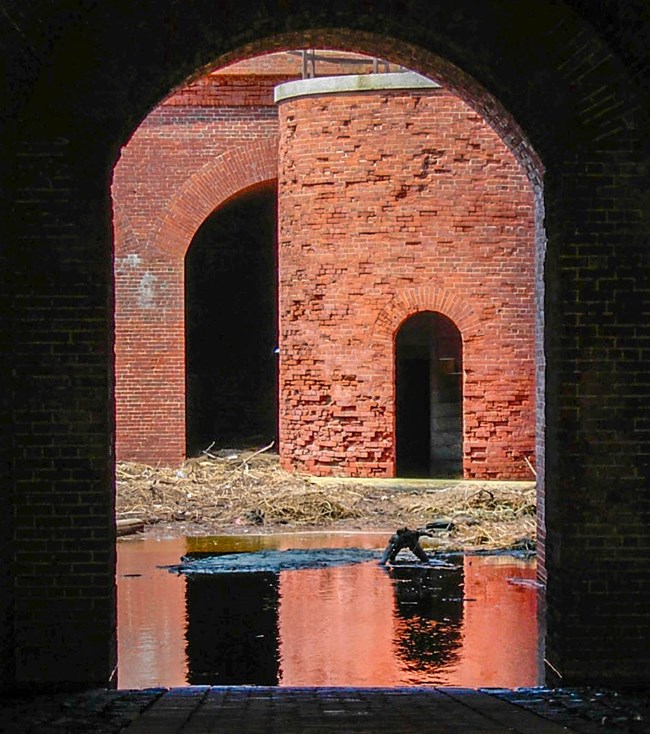 Hurricane Katrina Hits the Park
Mississippi
At the Mississippi barrier islands: Cat, Petit Bois, Horn, and Ship Island (formally known as East Ship and West Ship Island), preparations were made for a direct impact from the massive storm. Though barrier islands can protect the mainland from storms, these islands were no match for Hurricane Katrina's immense storm surge. On August 29, the Category 3 hurricane barreled towards Mississippi and it's barrier islands.
Winds of up to 120 mph were recorded and the storm surges ranged from 5.5 meters to 9 meters (16- 30 feet) in height. These surges overtopped Ship Island's Fort Massachusetts but failed to undermine the structure. The exhibit lighthouse that was erected in 1996 was washed away. The surge also wiped out the facilities including picnic shelters, snack bars, the pier and boardwalk on West Ship Island as well as several structures on Horn Island. East Ship Island's forest was demolished and the trees along the entire beach were either snapped or their bark ripped off completely to heights of eight meters. Katrina's extreme storm surge resulted in massive erosion on all of the island and also widened the separation or the "Camille cut" between West Ship and East Ship islands.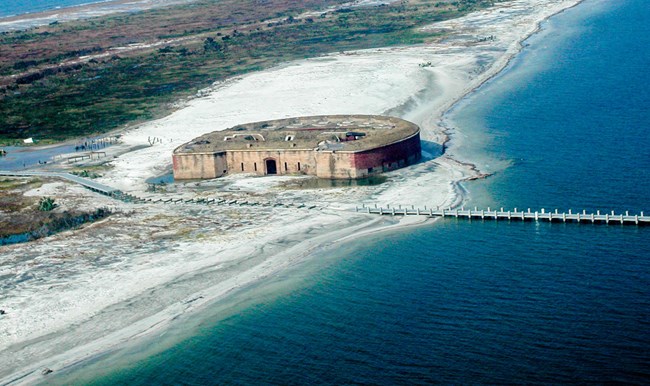 Florida
The Florida areas of the park were impacted even though Hurricane Katrina's eye landed 125 miles west of Perdido Key. Hurricane Katrina's outer band produced a 5.37ft storm surge with the maximum wind gusts reported at 69 mph. The Fort Pickens Area was particularly vulnerable to gulf to bay flooding from storm tides following the severe erosion and dune destruction caused by Hurricane Ivan, Tropical Storm Arlene, and Hurricane Dennis. Major portions of the park roads were still under repair when the 2005 storms destroyed the roads again.
Response to Hurricane Katrina
The National Park Service "deployed a total of 1,894 NPS personnel in response to Hurricanes Katrina, Rita and Wilma, including 229 personnel to support Federal Emergency Management Agency (FEMA) ESF activities under the National Response Plan (U.S. Department of the Interior)." According to the Department of Interior, 100,000 cubic yards of debris and a ton of hazardous materials and wastes were removed from Gulf Islands National Seashore. The Davis Bayou Campground was briefly used by FEMA to temporarily house victims of the hurricane.
The National Park Service is constantly working to prepare and improve the resiliency of national seashore facilities and resources. The national seashore prepares for these anticipated impacts and will normally be the first sites in the local area to close and the last areas to reopen. In some of these locations, roadways and facilities are just a few yards from the Gulf of Mexico.

Fritz, Hermann M., Chris Blount, Robert Sokoloski, Justin Singleton, Andrew Fuggle, Brian G. Mcadoo, Andrew Moore, Chad Grass, and Banks Tate. "Hurricane Katrina Storm Surge Distribution and Field Observations on the Mississippi Barrier Islands." Estuarine, Coastal and Shelf Science 74, no. 1-2 (2007): 12-20. doi:10.1016/j.ecss.2007.03.015.
"Gulf Islands National Seashore after Katrina." NASA. Accessed April 30, 2019. https://earthobservatory.nasa.gov/images/5857/gulf-islands-national-seashore-after-katrina.
https://www.nhc.noaa.gov/data/tcr/AL122005_Katrina.pdf
https://floridadep.gov/sites/default/files/HurricaneDennis-HurricaneKatrina.pdf
"Hurricanes Katrina and Rita." U.S. Department of the Interior, 13 Feb. 2017, www.doi.gov/emergency/factsheets/hurricanes-katrina-and-rita.
Last updated: May 7, 2020