Advanced Redoubt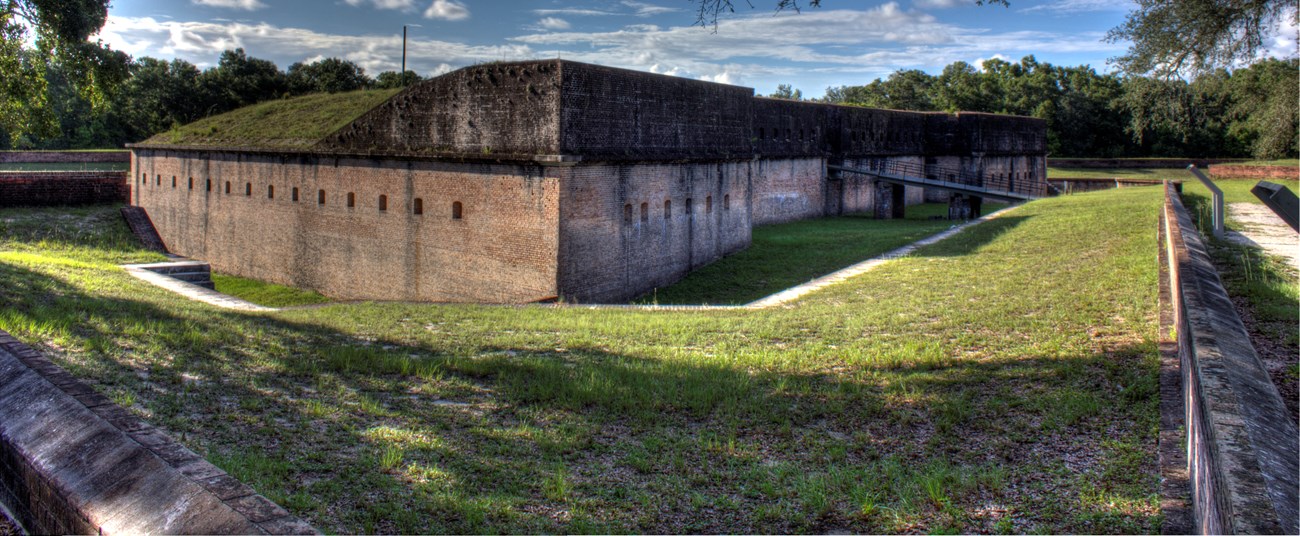 Advanced Redoubt sits just north of Fort Barrancas and was built to protect Fort Barrancas and the Navy Yard from a land attack. Construction began with enslaved labor in 1845 and was not completed until 1870 by free men, making it the last fort of the Third System Forts to be completed. Though redoubts are typically square, Advanced Redoubt was built as a trapezoid in order to defend the front and the rear of the structure.


Advanced Redoubt has noticeable defensive features on the outside: the dry ditch surrounded by the scarp and counterscarp walls. If an enemy were to enter the dry ditch or the "kill zone," defenders inside the fort could fire from all angles through loopholes in the scarp and counterscarp. The outer defenses of Advanced Redoubt were designed to make an attack costly and to exhaust the attacking troops before they could gain access to the fort and the navy yard.
The interior halls of Advanced Redoubt feature an open air central parade and cannon positions. Surrounding this are a fully enclosed network of brick arches providing access to the scarp and an underground passage to the counterscarp walls. The incredible engineering, craftsmanship, and skill of those that designed and built Advanced Redoubt can be appreciated today.
Changes in technology through the Civil War and the latter half of the 1800s made Advanced Redoubt and other forts like it obsolete. Between 1870- 1930, Advanced Redoubt suffered from vandalism and decay. All of the metal and woodwork were removed and the east face was used for target practice. The area became overgrown and the bridge over the dry ditch disappeared. Advanced Redoubt and Fort Barrancas both became part of Gulf Islands National Seashore when it was founded in 1971. In 1975-1976, the National Park Service stabilized and restored Advanced Redoubt.
Advanced Redoubt saw attacks on October 8, 1863 when Confederate Brigadier General James Clanton led an assault on Fort Barrancas. Fort Barrancas and Advanced Redoubt were defended by members of the 14th Regiment Corps d'Afrique and the 7th Vermont infantry. Shortly into the initial attack, 200 confederate soldiers were overwhelmed and retreated into the woods. The next day the Confederates returned and attacked Advanced Redoubt. After the soldiers engaged the pickets with small arms and artillery, Confederate troops retreated again with no casualties on either side.
Advanced Redoubt. (n.d.). Retrieved from http://www.fortwiki.com/Advanced_Redoubt Coleman, James C., and Irene S. Coleman. Guardians on the Gulf: Pensacola Fortifications,
1698-1980. Pensacola, FL: Pensacola Historical Society, 1995.
WSRE. "Forts of Pensacola Bay: Advanced Redoubt In Your Own Backyard," Filmed (September 2016). YouTube video, (26:46).https://www.youtube.com/watch?v=EGqhfgy8uxw
Last updated: June 14, 2019