Volunteer
The Gulf Islands National Seashore volunteer program is seeking people of all ages and abilities to volunteer at the park to help park staff accomplish the National Park Service mission. Volunteer-in-Parks (VIPs) perform a wide variety of duties, from maintaining the campgrounds and day use areas to providing information and fort programs. Without volunteers, the park would not be available provide as many services for our visitors.

Each year volunteers donate over 23,000 hours using their talents and expertise to assist the Seashore in our mission of conserving natural and historical resources. Interested in doing something not on this list? Contact the park or visit www.volunteer.gov to see what positions are currently available.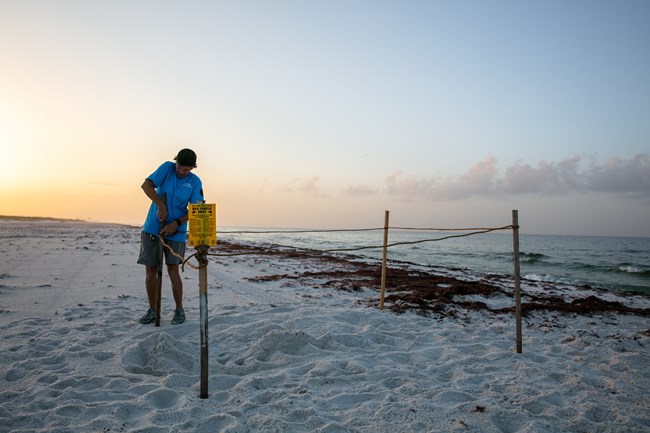 Volunteer Positions

Beach Trash Patrol
Volunteers will remove trash and debris from the beach. No required length of commitment, no housing available.
Marine Turtle Program Assistant
Volunteers conduct assessments of turtle nests, collect, and input data, and assist with setting up stands and/or area closures on the beach during surveys. Surveys are conducted early in the morning and require use of an ATV. Volunteers are needed at the Fort Pickens, Perdido Key, and Santa Rosa areas of the park. Commitment is from May- October for a minimum four hours a week. No housing is available. (Background Check Required)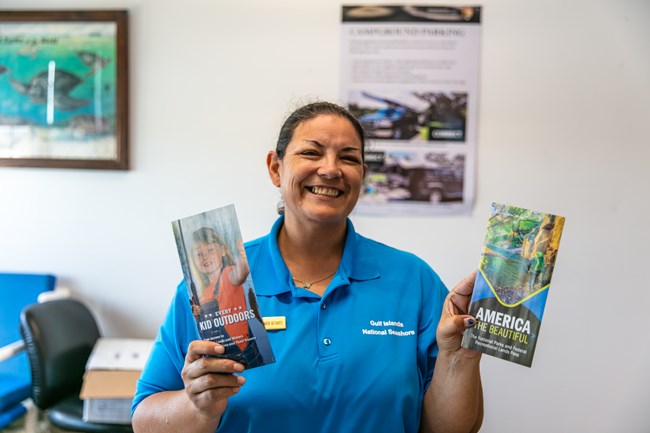 Campground Office Assistant
Volunteers assist with administrative duties at the campground office, including answering telephone calls, orienting park visitors, answering visitor questions, and making copies of handouts. No required length of commitment, no housing available.
Traffic Control Volunteer
Volunteers assist with directing and parking vehicles during U.S. Navy Blue Angel practices shows and other events as needed. Commitment is March- October for 4-8 hours per week. No housing is available.
Visual Information Volunteer
Volunteers assist with digital and print media services, which includes supporting special events and programs, capturing video and photographs for the park's website and social media accounts, and assisting with social media responsibilities as a social media manager.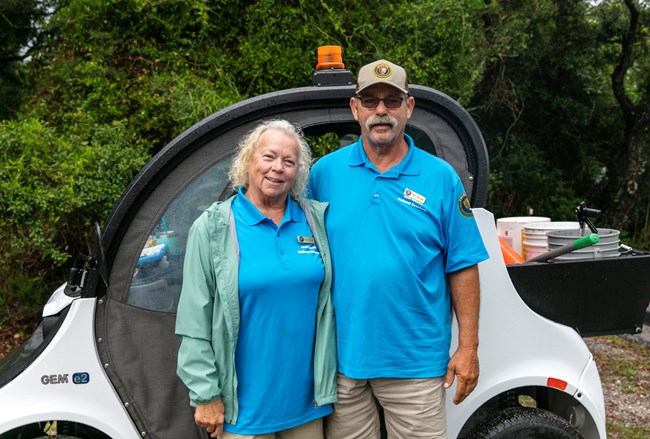 Campground Host
Volunteers serve as a liaison between campers and park staff, duties include greeting visitors, helping visitors locate a campsite, and light maintenance. Volunteers are needed at both Fort Pickens and Davis Bayou Campgrounds. Commitment is December- March OR April- July OR August- November for 32 hours per week. RV Site provided. (Background Check Required)
Site Hosts
Volunteers perform grounds maintenance, general custodial work, and assist with visitor inquires. Volunteers are needed at Fort Pickens, Perdido Key (Johnson Beach), Santa Rosa (Opal Beach), and Okaloosa areas of the park. Commitment is December- March OR April- July OR August- November for minimum of 32 hours per week. RV site is provided by the park. (Background Check Required)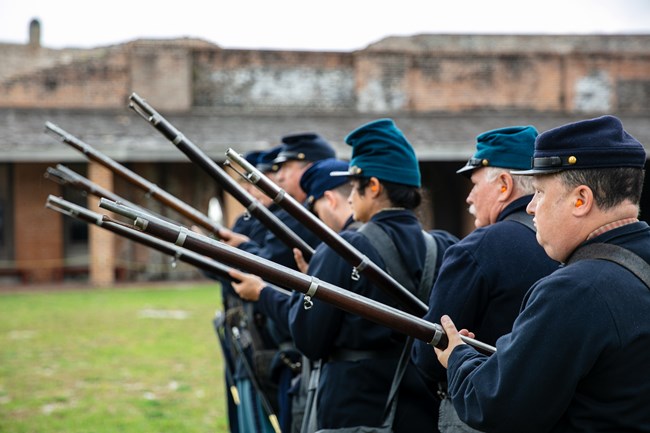 Resource Education Volunteer
Volunteers share the natural, historical, and cultural resource with the public by staffing visitor centers, park ferries, and contact station to provide public programs. Volunteers are needed at various areas throughout the park. Commitment is 360 hours per year. Housing may be available. (Background Check May Be Required)
Historic Weapons Demonstrator
Volunteers operate a historic reproduction weapon during historic weapon demonstrations at Fort Pickens in Florida. Volunteers must be able to demonstrate use of proper weaponry, the skills regarding care, loading, and commands of the historic weapon and the cultural significance of events and the location. Commitment is a minimum 80 hours annually and work 8-hour days. No housing is available. (Background Check Required)


Last updated: November 15, 2022