Boy Scouts of America Historic Trails Award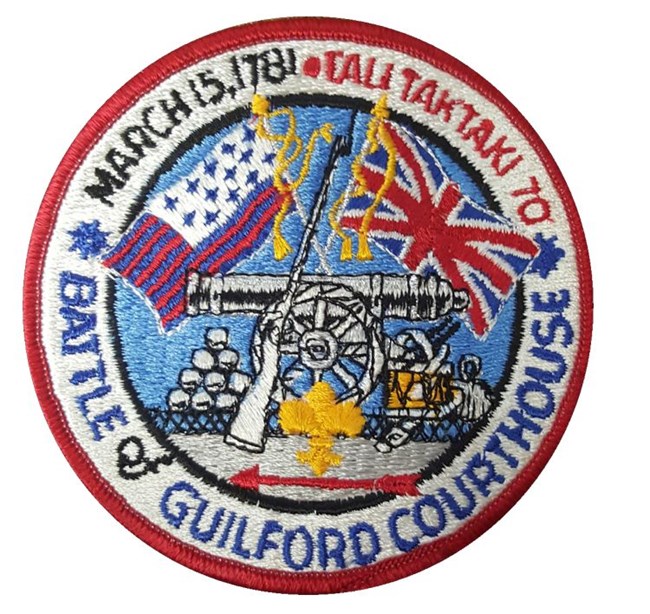 Boy Scouts of America - Guilford Courthouse Historic Trail Award
The Guilford Courthouse Historic Trail Award (GCHT) is an official program sponsored by the Old North State Council, Boy Scouts of America (BSA) of Greensboro, North Carolina in cooperation with the National Park Service. Upon completion of the requirements of the Award, the scout is entitled to receive a colorful, embroidered patch and ribbon with pendant medal. This BSA Program was established following the bicentennial observance of the Battle of Guilford Courthouse in 1981.


NOTE:
Staying Safe in Parks and Recreating Responsibly
As the National Park Service monitors and responds to the COVID-19 pandemic, we work closely with the NPS Office of Public Health to use the latest science to guide our decision making. Make sure you're ready for your visit by checking your local news and the park website to keep current on new and evolving guidelines. Public health measures are in place across the National Park System including capacity limits, and temporary closures in response to local conditions. While most of the 423 national parks are available to visitors, some may not have the ability to offer the level of service available before the pandemic. Check with individual park websites or download the NPS App for specific details about their operations.
2019 Novel Coronavirus (COVID-19)
Consistent with CDC recommendations, people who are not fully vaccinated (less than two weeks past your final dose) must continue to wear masks indoors and in crowded outdoor spaces. All people, regardless of vaccination status, are required to wear a mask on all forms of enclosed public transportation and in healthcare settings on DOI lands. Additional mask requirements for fully vaccinated visitors vary by park based on local conditions.
For the health and safety of others, please choose another time to visit a park if: 
· You are experiencing COVID-like symptoms such as a dry cough, fever, difficulty breathing, and/or loss of taste or smell.
· You had close contact with someone with suspected or confirmed COVID-19 in the last 14 days.
· You are self-isolating or self-quarantining because you may have been exposed to a person with COVID-19 or are worried that you may be sick with COVID-19.
Whether seeking wide-open spaces or exploring a historic urban neighborhood, visitors should follow current CDC guidance to reduce the spread of COVID-19 and recreate responsibly.
Call Ahead
Please give the park at least 48 hours notice of the arrival of your scout group by calling the park rangers at (336) 288 - 1776 ext. 232. If we cannot pick up, please leave a voicemail with your name, number, and date of arrival so that we may call you back to confirm.

Scouting troops desiring to perform Service Projects within the park must acquire a Special Use Permit. Permit approvals will be at the discretion of the park Superintendent and takes a minimum of 10 days to finalize. Contact the Special Use Permit Coordinator for further assistance at: (336) 288-1776 x 232.

How to Earn the Award
Scouts earn the GCHT award by hiking the two parts of the six and one-half mile trail and completing a sheet of questions about the history of the park. The first part of the trail begins at the Lake Brandt Marina on Lake Brandt Road. This part, called the Nat Greene Trail, is four miles, running first west, then south to Guilford Courthouse National Military Park.

The second part is 2.25 miles of trails. Scouts will find answers to their question sheets in the park's Visitor Center and along the trail route on monuments, signs, and wayside exhibits. It takes about four hours to complete the requirements.

Scouts can now view the movie Another Such Victory as well as virtual tours and combat videos on the park's YouTube Channel "Guilford NPS" !

NOTE: Cub Scouts are able to participate in the Guilford Courthouse Historic Trail Award, too. However, Cub Scouts are eligible for only the patch by completing a scavenger hunt and hiking the park's two and one-quarter mile trail route only.
Be Advised...
Please ensure that each scout has a pencil and clipboard or hard covered book. We ask that you do not allow scouts to use the wall panels inside the exhibit area to write their answers because it leaves permanent indentations. The GCHT question sheets are validated at the park visitor center any time during park hours (9:00 AM to 4:00 PM, Monday - Sunday).

The completed and stamped sheets are then turned in to the Old North State Council Headquarters by the Troop Leader for grading and to purchase the patch and medal.

Picknicking is not allowed on the battlefield, however groups can make reservations at the City of Greensboro's Country Park shelters. Country Park is south to the park and can be accessed at Tour Stop 4 or driving to Jaycee Park Drive off of Pisgah Church Road.
Supplies

To obtain question sheets, medals and patches, and further information on the GCHT, contact Old North State Council Headquarters, BSA at (336) 378-9166 or visit their office at 1405 Westover Terrace, Greensboro NC 27408.
Last updated: August 7, 2021