American Officers at the Battle of Guilford Courthouse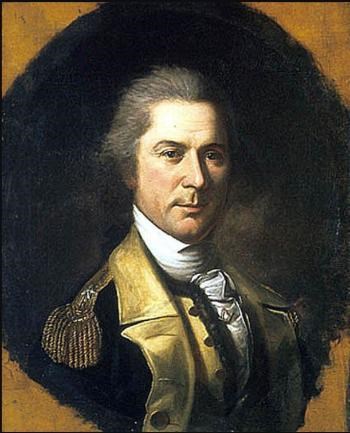 Otho Holland Williams
Otho Holland Williams was the Commander of the Maryland Brigade at the third line, and had a long hard road to get to Guilford Courthouse. He signed up to serve in 1775 and was captured in the Fall of Fort Washington during the New York campaign of 1776. Eventually being released in 1778 he returned to serve as Colonel of the 6th Maryland.
Williams would come to the southern theater with troops initially sent to help General Lincoln's men in Charleston, but Charleston fell in May 1780 before they came close to joining them. Instead Williams's troops were placed General Horatio Gates's command, and Williams would barely escape capture at the disastrous battle of Camden in August 1780.
In Greene's army, Williams rose to command the Maryland brigade made up of the 1st Maryland, which was the consolidated remnants of all the Maryland units that survived to this point, and 2nd Maryland, a brand new continental unit with no experience. He would also successfully lead Greene's "Flying Column" during the Race to the Dan, successfully delaying and misleading Cornwallis' pursuing troops with a portion of picked units, buying time for Greene to get his main army safely across the Dan River in February 1781.
More information on the American Officers coming soon! If you are interested in learning about the Battle check out our
Virtual Tours
page!
Last updated: February 28, 2021