Guilford Courthouse National Military Park:
A Revolutionary Classroom
Immerse your students in the American Revolution! The park is the perfect place for elementary school, middle school, high school, and special interest groups to participate in formal education programs and tours. All programs and tours require a formal reservation at least two weeks in advance. To schedule a tour or request materials for loan, please call Stephen Ware at (336) 288-1776 or email at stephen_ware@nps.gov.
Park rangers and park volunteers are available to take your class on tours of the Battlefield and 18th century Hoskins Farm.
The Battlefield Visitor Center offers two films and museum.
We are pleased to announce our new travel trunks and lesson plans that you can check out before the field trip and prepare your students for this revolutionary experience.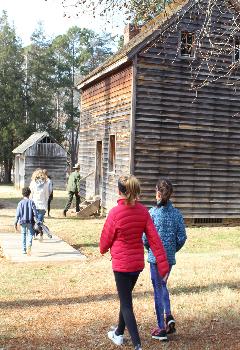 Last updated: March 9, 2019