Outdoor Activities
Explore Outdoors
Wander the Depot

Take a walk back in time to the historic fur trade and meet the people who made it possible

Camping

Camping at Grand Portage National Monument is limited to two campsites at Fort Charlotte.

Hike a Trail

Hike the eight-and-a-half mile path made famous by the voyageurs. or climb Mount Rose for a view of Grand Portage Bay and the Depot.
Trail Safety
Wear sturdy foot wear
Stay on trail - watch your children
Carry water
Consider the weather: carry rain gear and/or warm clothing if necessary, dress in layers
Consider insect repellent and sunscreen
Consider a first aid kit
Know the difficulty level of the trail and your physical abilities and limitations
Mount Rose Loop & Trail are not accessible by wheelchair
Leave No Trace!
Stay on the trail
Carry out all trash
Rules and Regulations
Pets must be restrained on a leash no longer than 6 feet (1.8 m). Pets are not allowed inside buildings or the stockade of the historic depot. There are trails around the perimeter of the stockade allowing a bypass.
Please do not feed or disturb wildlife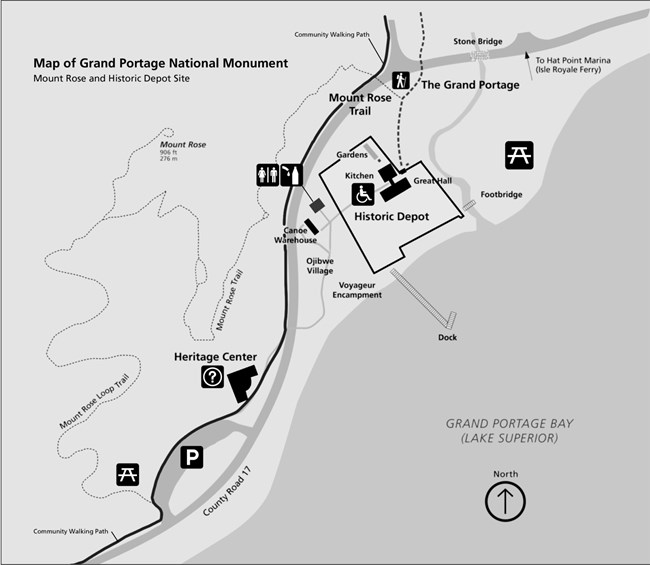 Trails can be accessed across Mile Creek Road from the depot. Mount Rose has an additional trailhead from the Heritage Center parking lot, near the picnic area. Download a copy of the map.
Last updated: June 3, 2022