Permits & Reservations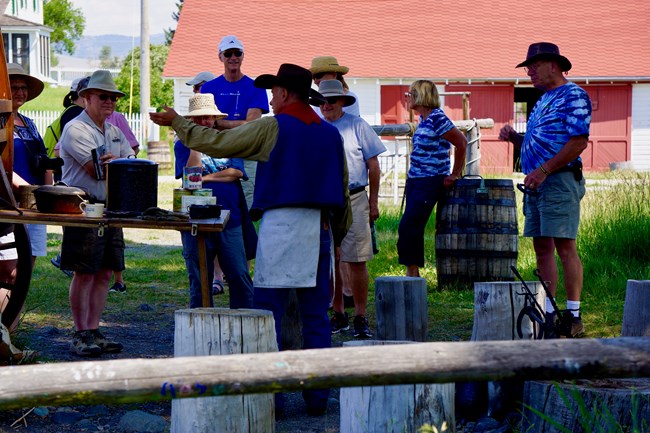 Reservations
Although there is no entrance fee, it is highly recommended that school groups and bus groups make reservations if they are planning on visiting the park.
Reservations can be made by contacting Julie Croglio at 406-846-2070 ext. 226 or e-mail us with your information. Please have ready the date you would like to visit, the time you will be coming, and the number of people in your group.
Special-Use Permits
A special-use permit is required for activities that provide a benefit to an individual, group, or organization, rather than the public at large, and that require some degree of management from the National Park Service in order to protect park resources and the public interest.
Special-use permits are required for events such as: weddings, ceremonies, First Amendment activities, festivals, concerts, cultural programs, sporting events, and public spectator attractions. You may download an Application for Special-Use Permit.
Commercial Filming/Videos

Fees
1 - 2 people................ 0/day (camera & tripod only)
1 - 10 people................ $150/day
11 – 30 people................ $250/day
31 – 49 people............... $500/day
50 + people................ $750/day
Still Photography Fees
1 – 10 people................ $50/day
11 – 30 people................ $150/day
30 + people................ $250/day
For questions about special-use permits, contact the Chief of Interpretation at 406-846-2070 ext. 226.
Research Permits
To apply for a scientific research and collecting permit on the National Park Service's "Research Permit and Reporting System" website, go to https://science.nature.nps.gov/research. The RPRS website has information on the necessary procedures and requirements.
Last updated: May 7, 2021