Permits & Reservations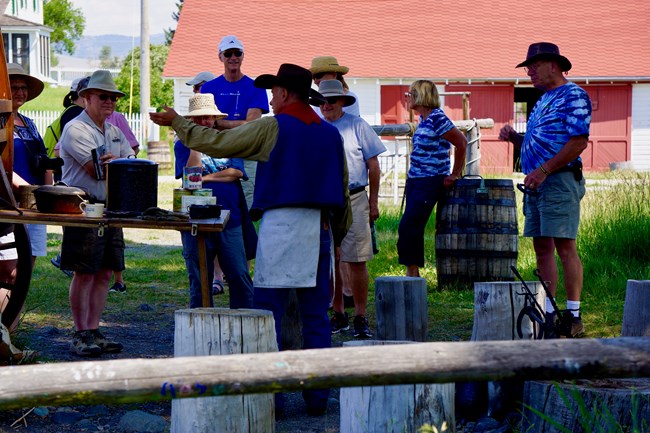 Reservations
Although there is no entrance fee, it is highly recommended that school groups and bus groups make reservations if they are planning on visiting the park.
Reservations can be made by contacting Julie Croglio at 406-846-2070 ext. 226 or e-mail us with your information. Please have ready the date you would like to visit, the time you will be coming, and the number of people in your group.
Special-Use Permits
A special park use is a short-term activity that takes place in a park area and provides a benefit to an individual, group or organization, rather than the public at large. The National Park Service may permit a special park use providing the activity will not unduly interfere with normal park operations, cause derogation of the park's resources or values, or present a threat to public safety or property. that provide a benefit to an individual, group, or organization, rather than the public at large, and that require some degree of management from the National Park Service in order to protect park resources and the public interest.
A special-use permit is required for events such as: weddings, ceremonies, First Amendment activities, festivals, concerts, cultural programs, sporting events, and public spectator attractions.
Permit Application Procedure
Requests for a permit application may be made in person at park headquarters, via telephone, email or letter. Allow at least ten business days for processing. The application form may be downloaded. A completed application and the non-refundable application fee of $25 are required before an application can be processed. The information on the application will be used by NPS staff to evaluate the impact of the proposed activity on park resources and visitors. Requests which involve multiple locations, complex logistics, coordination with other visitor activities or require environmental or cultural resource evaluation must be submitted not less than 30 days before the start of proposed activities. Applications will be returned to the applicant if submitted incomplete, cannot be approved as submitted, or are received without payment or without a social security or Federal Tax Identification Number.

Mail completed application and fee to:

Grant-Kohrs Ranch NHS
ATTN:Special Park Use Coordinator
266 Warren Lane
Deer Lodge, MT 59722

FAX: 406-846-3962
Telephone: 406-846-2070 ext. 226
Email:e-mail us
Demonstrations
36 CFR §2.51 – DEMONSTRATIONS
(b) Demonstrations of 25 people or less are allowed within the park areas designated as available under paragraph (c)(2). However, there are exceptions and, even when not required, a permit is recommended in order to ensure space will be available at a particular designated location. Demonstrations of more than 25 people are allowed at designated locations areas when the superintendent has issued a permit for the activity.

(c)(2) The following locations are designated as available for demonstrations:
• An area has been set aside near the Visitor Center, shown here.
Research Permits
To apply for a scientific research and collecting permit on the National Park Service's "Research Permit and Reporting System" website, go to https://science.nature.nps.gov/research. The RPRS website has information on the necessary procedures and requirements.
Last updated: December 22, 2021