Animals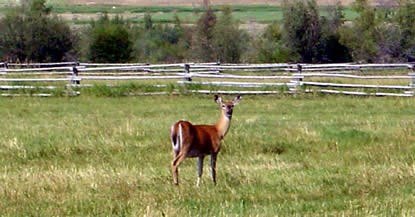 Grant-Kohrs Ranch provides excellent grazing for horses and cattle. Chicks raised in the brooder house eventually graduate to the chicken coop. Cat and dog doors in barns give access to these working animals which, nonetheless are also well-loved pets.
This doesn't represent the sum of animals at the ranch, though. The same grazing enjoyed by our livestock is used by deer and the occasional elk or moose. Creeks, marshes and the Clark Fork River harbor trout and whitefish. Surrounding willows provide rich and varied habitat for beaver, muskrat, fox, skunks, raccoons and coyote. More than 230 species of birds pass through seasonally or live on the ranch year-round. Great blue heron, bald and golden eagles, chickadees, magpies, geese, ducks and several species of woodpeckers are among our regular residents.
Agricultural land is a vast refuge for wildlife. The 1600 acres of the ranch and the 3675 acres of the conservation easement to the west will be vital to the survival of many species in the area, as other habitat is lost to development.


Last updated: February 24, 2015