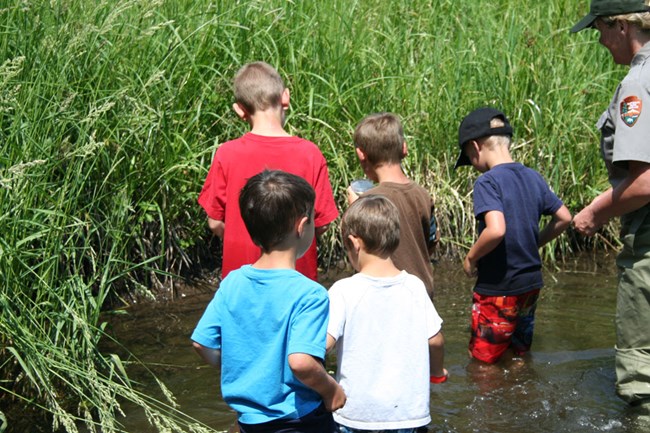 Summer Explorers 2018
Grant-Kohrs Ranch summer youth programs offer kids great opportunities to learn about the natural and cultural world through fun hands on activities.
Join the FREE fun every Tuesday
June 19, 2018 - August 7, 2018

Please register at least 1 week before the program.

My Backyard - June 19th, 9:30 am - 12:30 pm
Learn about the animals that call your backyard home.

What Do You See? - June 26th, 9:30 am - 12:30 pm
Find inspiration around the ranch to create your own art.
Taiming the Wild West - July 3rd, 9:30 am - 12:30 pm
From Lewis & Clark to the Open Range Era, learn about the explorers who opened up the American West.
Who Pooped in the Park? - July 10th, 1 pm - 4 pm
Investigate the many kinds of wildlife that call the ranch home and the clues that they leave behind.
Native Games, Animal Olympics – July 17th, 9:30 am - 12:30 pm
Learn about Montana's cultural and natural diversity through games.

Frontier Life – July 24th, 9:30 am - 12:30 pm
Spend a day in the life a frontier child.

Native Species - July 31st, 9:30 am - 12:30 pm
Come meet special wildlife guests from Animal Wonders!

What's Living in the Water? – August 7th, 9:30 am - 12:30 pm
Explore and discover the diversity of life found in water.

Call 406-846-2070 ext. 242 for more information or to register.
*Participants must register at least 1 week in advance*