Jobs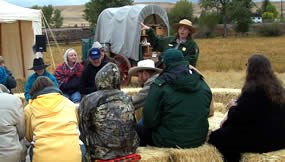 There are a variety of employment opportunities at Grant-Kohrs Ranch NHS. We fill positions in many fields including interpretation, maintenance, and resource management. Each job performs a vital function of providing visitors with an opportunity to enjoy a unique experience, while working hard to preserve natural and cultural resources for future generations.
Current Job Openings
Information on current position vacancies at Grant-Kohrs Ranch National Historic Site can be found by indicating the location as "MT-Deer Lodge" at www.usajobs.opm.gov.
Last updated: February 24, 2015