Things To Know Before You Come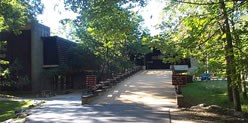 Great Falls Park is a unique destination in the Washington D.C. area. Here, you will find information to help you plan your visit to the park.
Some things to keep in mind while planning your trip:
The busiest times are on nice weekend afternoons. There is usually a line to enter the park on those days.
Great Falls is open from 7 a.m. until dark daily.
Dogs and other pets are welcome, but must be on a six foot leash and under physical control at all times. Remember to clean up after your pet.
Ranger programs are offered on most days. Check with the Visitor Center for details.
Alcohol is not permitted in the park.
Swimming and wading are not allowed in the park.
Picnic tables and grills are available on a first come, first serve basis. No reservations are needed for picnics.
There is an entrance fee to enter the park. More information.
The snack bar is open seasonally. For current hours, click here. There are no vending machines in the park.
One wheelchair is available for loan on a first-come, first-serve basis at the Visitor Center. There is no cost to use the wheelchair.


Last updated: April 10, 2015