Operating Hours & Seasons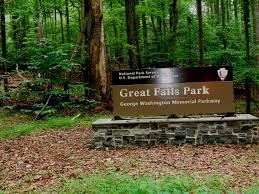 Operating Hours
Great Falls Park, overlooks, hiking trails, picnic areas and other outdoor areas, open: 7:00 a.m. to thirty (30) minutes after sunset, daily, and closed December 25.
Visitor Center Hours
Visitor Center is temporarily closed due to Covid-19.
Restroom Hours
The lower restroom building located at the trail junction of Matildaville Trail and Old Carriage Road Trail, near the lower parking lot, remains open 7:00 am through park closing time at dark (30 minutes after sunset). Although, temporary closing during the day will occur for cleaning.
The restrooms located in the courtyard level of the Visitor Center are open 9:30 am - 5:30 pm. (Temporary closures during the day for cleaning will occur.)
Food and Beverage Service Hours
For the summer of 2021, variable take-out food and beverage offerings from a mobile food truck in the picnic area will be available typically on Saturdays and Sundays from 11:00 a.m. to 6:00 p.m.

Vending machine food and beverage options are available in the Visitor Center courtyard. The machine is equipped to accept cash, charge/debit cards, and Apple Pay.

Seasonal water fountains, with built in dog water dishes, are located at the lower restroom building and the Visitor Center courtyard.


Last updated: June 8, 2021