Guided Tours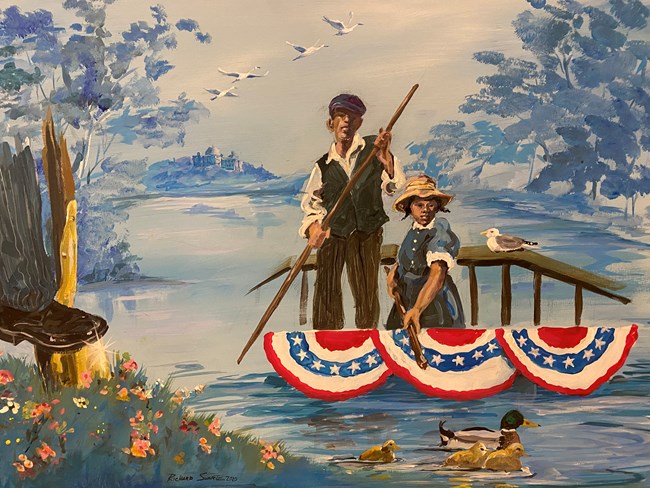 Ranger Programs
Every Saturday and Sunday: The Story of Captain George Pointer and the Patowmack Canal
10:00 am - Ranger Guided walk along Patowmack Canal Trail.
Meet at the lower courtyard area below the Visitor Center Building, approx. 1 mile, mostly flat, easy walking path. Allow 2 hours.
2:00 pm - Ranger Talk
Presented at Overlook 3 near the log benches, seating available, approx. 30 minutes.
Learn about the life of Capt. George Pointer, a formerly enslaved African American, who was rented to the Patowmack Canal company as a 13 year old enslaved laborer. At 19 years old, in 1792, he purchased his freedom and continued working for the canal company over 40 years. He became a ship captain and went on to become superintendent of the Patowmack Canal Company.
His work on the Patowmack Canal would go on to lay the foundation for the C&O Canal, which stretched over 184 miles across the early Americas, bringing thousands of shipments of cargo from the Ohio River Valley to the East Coast for over 100 years.
Bird Walk - Volunteer guided approx. 2 1/2 miles allow up to 3 hours

Every Sunday 8:00 am, Meet in the Main Parking Lot.
Great Falls Park sponsors a weekly bird walk which meets in the main parking lot near the Visitors' Center at 8:00 a.m. on Sunday mornings, year round, rain or shine. All those with an interest in the natural world - beginning and experienced birders alike - are welcome including youth, although minors will need to be accompanied by a responsible adult. No dogs, please.
The walk does not take place when the park itself is closed, during extreme weather conditions, or if the park opening is delayed. The park is closed December 25. Updates for weather closures are posted on the Great Falls Park Facebook page and via voice message at 703-757-3101. Great Falls Park charges an entrance fee, but there is no additional charge to attend the bird walk.
Ranger-led educational programs are a great way to explore the park for school groups, scout groups, and more. If you are interested in a ranger-led program for your group, please contact the park for more information or visit our For Teachers page.


Last updated: May 16, 2023