Great Falls of the Potomac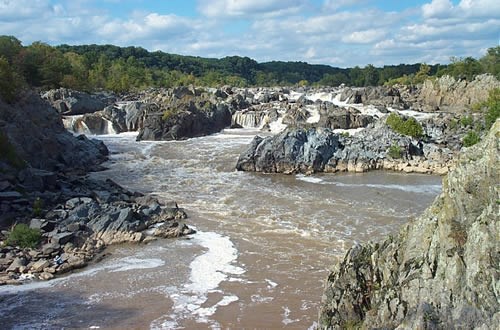 Many people consider the Great Falls of the Potomac to be the most spectacular natural landmark in the Washington D.C. area. Here, the Potomac River builds up speed and force as it falls over a series of steep, jagged rocks and flows through the narrow Mather Gorge.
This dramatic scene makes Great Falls Park, located just fifteen miles from the Nation's Capital, a popular site with local residents and tourists from around the world who are visiting the Washington area.
The falls consist of cascading rapids and several 20 foot waterfalls, with a total 76 foot drop in elevation over a distance of less than a mile.
The Potomac River narrows from nearly 1000 feet, just above the falls, to between 60 and 100 feet wide as it rushes through Mather Gorge, a short distance below the falls. The Great Falls of the Potomac display the steepest and most spectacular fall line rapids of any eastern river.
Last updated: April 10, 2015