Volunteer



Greenbelt Park offers a variety of recurring and event volunteer opportunities throughout the year.
Please inquire about volunteering by contacting the Partnerships, Volunteer and Youth Programs division of National Capital Parks - East by email: NACE_Volunteers@nps.gov, by phone: (202) 437-7518, or our Volunteer Interest Form.

Find further volunteer information by exploring the Current Volunteer Opportunities below on volunteer.gov,
Volunteer Opportunities in Greenbelt Park
Volunteer Opportunities in our area
Volunteer Oportunites in National Capital Parks East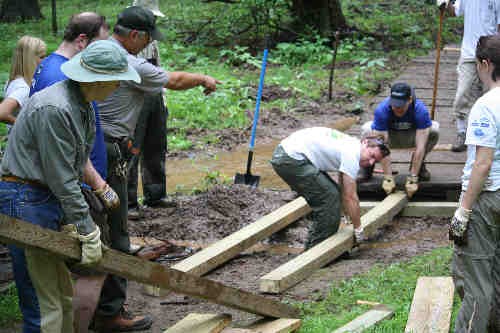 Greenbelt Park is a retreat from the pressures of city life and a refuge for native plants and animals just ten miles from the Washington Monument.

The Greenbelt volunteer program has many opportunities to be a part of helping a National Park.
Opportunities include Campground host, invasive plant removal partner, park cleanups, and trail volunteer crew. The park also hosts the Potomac Watershed Cleanup (April), National Trails Day (June), Public Lands Day (September), and Invasive Plant Removal Days (all throughout the year on the first Saturday of each month).
VIP Program Mission
The National Park Service Volunteers-In-Parks Program (VIP) was authorized by Public Law 91-357 enacted 1970.
The primary purpose of the VIP program is to provide a vehicle through which the National Park Service can accept and utilize voluntary help and services from the public.

The major objective of the program is to utilize this voluntary help in such a way that is mutually beneficial to the National Park Service and the volunteer.
Volunteers are accepted from the public without regard to race, creed, religion, age, sex, sexual orientation, national origin, or disability.
Last updated: May 31, 2023