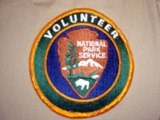 Come live and work in a National Park!
Volunteers are an important part of the park staff, donating thousands of hours of their time to National Park Service sites around the country and helping us with our daily goals and operations. Volunteering in any national park is a rewarding experience ripe with opportunities for personal development and career advancement. Fulfill that dream of working and living in a national park as part of the Volunteers in Park (VIP) Program.
Please contact Volunteer Coordinator -call (775) 234-7521 for more information. Check back often for updated volunteer opportunities.