Volunteering at Golden Spike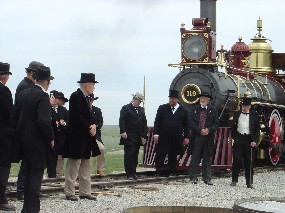 Volunteers-In-Parks is a program designed to allow the public to help preserve the wonderful locations that make up the 397 National Park Sites. In 2011 the National Park Service reported having over 221,000 volunteers. These volunteers donated millions of hours of service that were crucial in helping to maintain and operate the varied sites throughout the nation. Volunteers can participate in a wide range of activities at each site, which benefit the park and meet their interests.
At Golden Spike National Historic Site, Volunteers are involved in living history re-enactments, resource protection and restoration, locomotive maintenance and operation, visitor services, and scientific research. If you are interested in volunteering at Golden Spike National Historic Site or want to know more about the Volunteers- In-Parks program please contact our site by clicking the link to the left or visit the Volunteers-In-Parks website at volunteer@nps.gov.