Locomotive Ranger Programs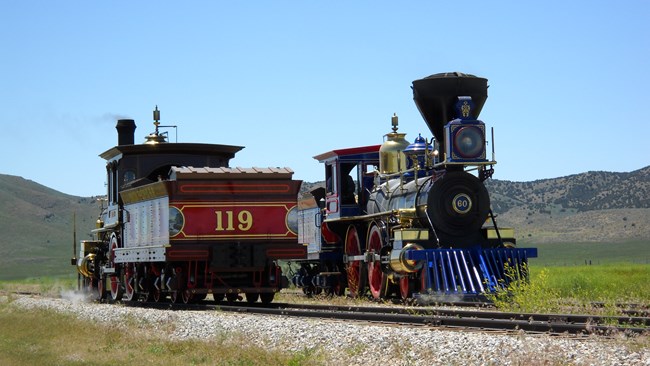 From early May through early October, we have daily ranger programs at Golden Spike National Historical Park. Here, you can see the steam locomotives Jupiter and No. 119. These are replicas of the originals that met at Promontory Summit on May 10th, 1869 for the wedding of the rails ceremony.
They operate daily from
May 1st through October 9th,
except on
boiler wash days.
Locomotive Ranger Programs
:
10:00 AM - Arrival of the Jupiter
10:30 AM - Arrival of the No. 119
1:00 PM - Demonstration run with both locomotives
3:50 PM - Departure of No. 119
4:30 PM - Departure of Jupiter
Costumed Reenactments of the 1869 ceremony occur every Saturday From Memorial Day weekend to Labor Day Weekend (September 2nd).
Recommended arrival times are before 10:00am and 1:00pm in order to view the Locomotive Ranger Program and the Reenactment. Show times are:
10:45 AM Following the arrival of the No. 119
1:00 PM Following the 1:00 PM Locomotive Ranger Program
Last updated: August 16, 2023