Plan Your Visit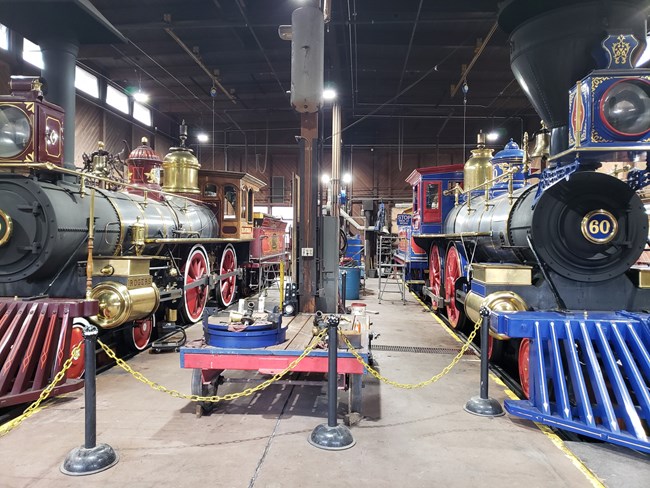 Winter Steam Festival is Coming to Golden Spike!
Golden Spike's annual Winter Steam Festival will be December 28, 29, and 30. The Central Pacific Locomotive Jupiter will be featured for this year's steam demonstrations. The Jupiter will run throughout the day along the historic Transcontinental Railroad grade where visitors will have the opportunity to smell, hear, see, and feel the power of this victorian era locomtive, transforming visitors back to 1860's Promontory Station. Please stay tuned for updated activity schedule.
Winter Operations:

Visitor Center:
The Visitor Center is the first place to stop for any visitors coming out to the park. The center features the WNPA Park Store, exhibits, a theater and 20-minute park orientation film, as well as a welcoming staff that will help visitors get the most out of their visit.
The Visitor Center is seasonally closed on Tuesdays and Wednesdays from October 29th through April 30th.

All outside attractions are open seven days a week from dawn to dusk, year round.
Restrooms are located at the visitor center, as well as picnic tables and drinking water.

Engine House:
From mid-October to late April the locomotives of Golden Spike National Historical Park are in the Engine House undergoing maintenance. For a behind the scenes look at what it takes to maintain and operate victorian locomotives utilizing 1860's steam technology, a visit to the Engine House is a must.
The Engine House is open Thursday - Monday for ranger guided tours at 10:30 AM,1:00 PM, and 3:00 PM.

Outdoor Features:
Golden Spike includes the Last Spike Site, the Big Fill Trail, The East Auto Tour, and is near other local attractions

that can be found on our

Things To Do

page. The driving tours may be closed during the winter months due to inclement weather.

The nearest gas and food services are 27 miles away in Corinne, UT.

Summer Season:
Locomotive Ranger Programs are given throughout the summer starting May 1st and ending mid-October. The locomotives undergo periodic maintenance during the summer, please check our Boiler Wash Schedule to see if one of the locomotives may not be available to the public.

10:00 AM Arrival of the CPRR Jupiter

10:30 AM Arrival of the UPRR No. 119

1:00 PM Demonstration run with both locomotives

4:00 PM Departure of the UPRR No. 119

4:30 PM Departure of the CPRR Jupiter

Costumed Reencactments of the 1869 ceremony start Saturday, Memorial Day Weekend and occur every Saturday until the last Saturday Labor Day Weekend . Recommended arrival times are before 10:00am and 1:00pm in order to view the Locomotive Ranger Program and the Reenactment. Show times are:

10:45 AM Following the arrival of the No. 119
1:15 PM Following the 1:00 PM Locomotive Ranger Program
Get on Track to Explore Golden Spike
Visitor Center Information