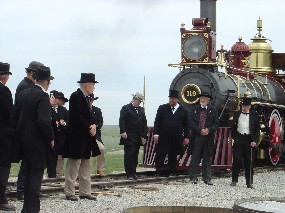 Golden Spike National Historic Site receives approximately 45,000 visitors a year. These visitors come to explore the unique history connected with one of the greatest turning points that influenced the growth of our nation. Although Golden Spike National Historic Site is open year round, most visitors frequent come in between the first of May and mid-October.
Some of the Unique Highlights
The most popular attractions include stepping out to the site where history was made, viewing the site's replica steam locomotives, participating in historic re-enactments of the famous completion ceremony, and exploring the nearly 150 year-old railroad grade on the auto tours and hiking trail. Whether you are coming out to check out the visitor center, see a film, or enjoy the unique landscape you should be able to connect with some of the unique aspects of this pivotal moment in our nation's history. This website should help you with many of your questions.
The Driving of the Last Spike is reenacted during the summer season allowing visitors to relive this celebration. Volunteers portray the dignitaries who were at the ceremony on May 10th, 1869.
Reenactments are held Saturdays and holidays, starting the first of May through mid-September, at 11:00 a.m. and following the 1:00 p.m. Steam Demonstration.