Plan Your Visit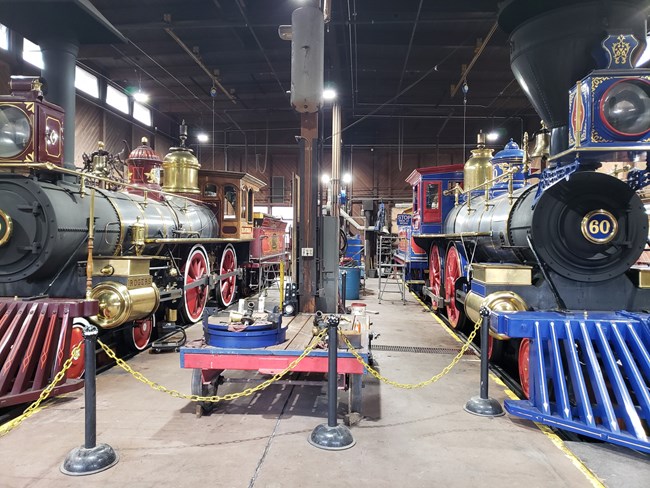 Welcome to Golden Spike National Historical Park!
Golden Spike has numerous programs and activities that occur daily and are seasonally dependent:
Engine House Tours are given during the winter months starting mid-October and ending April 30th. The tours are typically a short introduction to the locomotives followed by Q&A. During busy weekends or holidays the Engine House may be open from 10:00 AM to 4:00 PM with a ranger available for questions.

10:30 AM Tour
1:00 PM Tour
3:00 PM Tour
During the summer season, May 1st through mid-October, the visitor center is open 7 days a week, 9:00 AM - 5:00 PM. All outside attractions are open from dawn to dusk, year round. The Visitor Center is seasonally closed on Tuesdays and Wednesdays from mid-October through April 30th.

Restrooms are at the visitor center.
Timed Entry Reservations are not required.
Golden Spike includes two driving tours, a hiking trail, and is near other local attractions that can be found on our Things To Do Page. The driving tours may be closed during the winter months due to inclement weather.
Locomotive Ranger Programs are given throughout the summer starting May 1st and ending mid-October. The locomotives undergo periodic maintenance during the summer, please check our Boiler Wash Schedule to see if one of the locomotives may not be available to the public.

10:00 AM Arrival of the CPRR Jupiter

10:30 AM Arrival of the UPRR No. 119

1:00 PM Demonstration run with both locomotives

3:50 PM Departure of the UPRR No. 119

4:30 PM Departure of the CPRR Jupiter
Costumed Reencactments of the 1869 ceremony start Memorial Day Weekend (May 28th and 30th) and occur every Saturday until Labor Day Weekend (September 3rd). Recommended arrival times are before 10:00am and 1:00pm in order to view the Locomotive Ranger Program and the Reenactment. Show times are:

10:45 AM Following the arrival of the No. 119
1:00 PM Following the 1:00 PM Locomotive Ranger Program

The nearest gas and food services are 27 miles away in Corinne, UT, but drinking water and picnic tables are available at visitor center.
Get on Track to Explore Golden Spike

Last updated: November 17, 2022