Where the Buffalo Roamed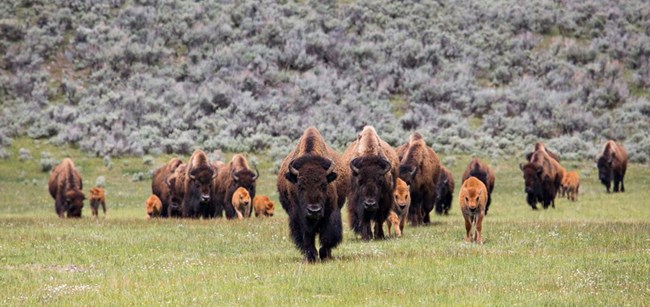 Bison herds in the western United States were so massive, they shook the ground and sounded like thunder in the distance. The American bison roamed most of North America and in the early 19th century, population estimates were between 30 million to 60 million. Their story is inextricably tied to the history of America's first transcontinental railroad.

Hundreds of thousands of bison were slaughtered by hunters, travelers and U.S. troops. Trains shipped bison carcasses back east for machine belts, tongues as a delicacy, and bones as fertilizer. When the Transcontinental Railroad was completed in 1869, it accelerated the decimation of the species and by 1900, naturalists estimated less than 1,000 bison remained.

By the late 1880s, the endless herds of bison were wiped out and just a few hundred individuals remained. Near extinction of the majestic animal deprived the Plains Indians of thier livelihood and resulted in tremondous suffering. The last remaining Bison were protected in Yellowstone National Park and other sanctuaries in North America. Today, bison populations are slowly recovering. The sculpture "Distant Thunder" is a tribute to the vast herds that once roamed the American West.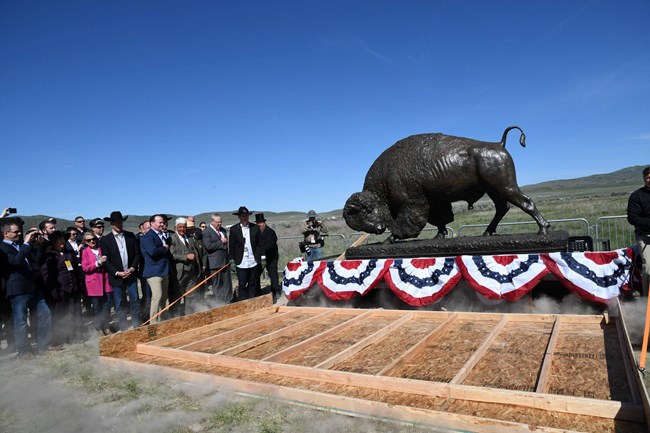 "Distant Thunder" and the Artist
"Distant Thunder" was created by artist Michael Coleman and first exhibited on May 10
th
, 2019. The 3,500 pound bronze sculpture took over a year to create. It was donated to Golden Spike National Historical Park in 2019 in commemoration of the 150
th
anniversary of the driving of the last spike in the Transcontinental Railroad.
Michael Coleman was born and raised in Provo, Utah and spent lots of time outdoors. Coleman is a prominent Western artist who has exhibited at the National Academy of Western Art and the Buffalo Bill Center of the West in Wyoming.
When discussing his sculpture "Distant Thunder," Coleman said "My love of buffalo runs deep. The first painting I ever sold was of a buffalo. There was a small herd of bison down near Utah Lake about 10 or so miles from my house… they were magic!"
Last updated: December 5, 2022