Andrew J. Russell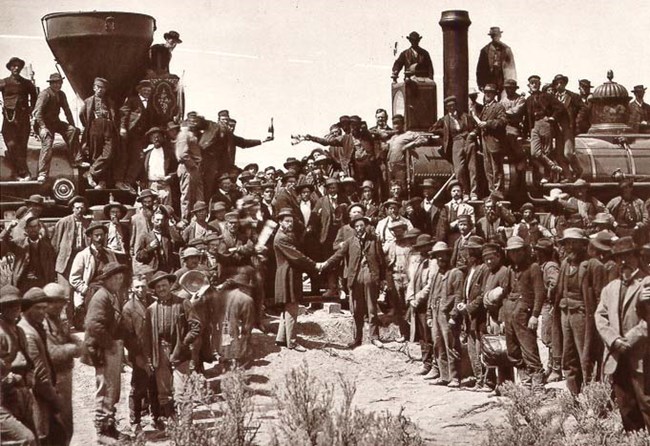 The most famous photograph associated with the first transcontinental railroad is Andrew J. Russell's "East and West Shaking Hands at Laying of Last Rail." Commonly known as "The Champagne Photo," Russell's "East and West" was one of many glassplate exposures taken on May 10, 1869, by three photographers who were present at the Golden Spike Ceremony. More than any other image of that day, however, the champagne photo seems to capture a defining moment in our nation's history.
The Champagne Photo

Following the driving of the last spike, Union Pacific's engine No. 119 and Central Pacific's Jupiter were run up until they nearly touched. Railroad officials retired to their cars, leaving the engineers and workmen to celebrate.

The champagne flowed and engineers George Booth and Sam Bradford each broke a bottle upon the other's locomotive. Samuel S. Montague, Central Pacific's Chief Engineer and his counterpart, General Grenville M. Dodge, shook hands to symbolize the end of the race to build the nation's first transcontinental railroad. This moment in time became immortalized in Andrew J. Russell's famous photograph.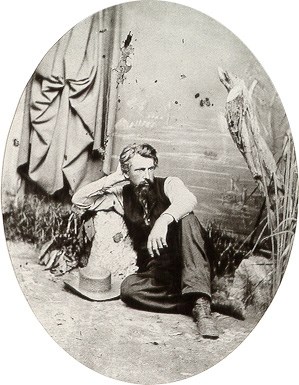 The Photographer
Photographer Andrew J. Russell began his career as an artist. As a commissioned officer in the Union Army during the Civil War, he initially worked painting a recruitment diorama and was soon assigned to a special duty post as photographer for the U.S. Military Railroad Construction Corps.
After the war, Russell went West to record images of the Union Pacific Railroad as it was built westward from Omaha, Nebraska. The result of his efforts is a collection of 650 10 x 13 inch glass plate negatives now in the Oakland Museum, Oakland, California.
The making of each photograph was a time-consuming process. The image was first composed on ground glass, then a sensitized glass plate was inserted in the camera. Chemicals for the plate had to be mixed on the spot and remain wet during the time of exposure. In addition, there was no camera shutter. The photographer simply removed the lens cap and replaced it when he guessed the time was about right. Finally the photographer or his assistant would develop the picture in a nearby portable darkroom.
Who's Who at Promontory May 10th, 1869

Photographs, diaries, and other historic records indicate that about 1,000 people participated in the celebration at Promontory Summit on May 10, 1869. Politicians, officials of the Central Pacific and Union Pacific Railroads, railroad workers (including a Chinese contingent from the Central Pacific), five companies of soldiers from the 21st U.S. Infantry Regiment, and members of the public from near and far were in attendance. Although the crowd was mostly men, a small number of women and children were present.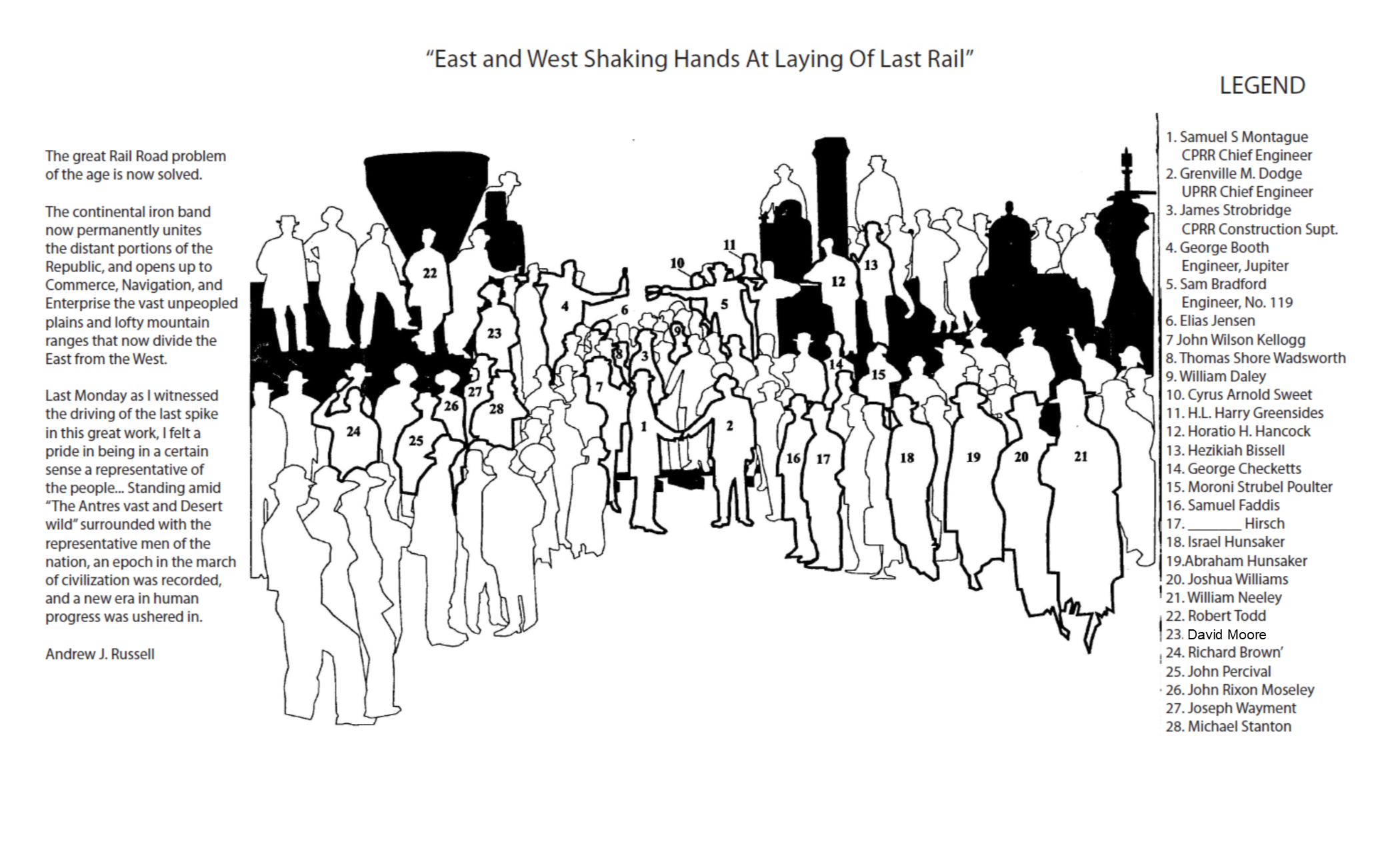 Last updated: July 9, 2021